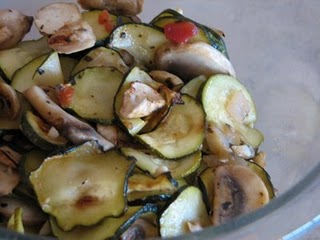 I originally posted this last summer but I wanted to link to it for Life As Mom's Recipe Swap.
One of the ways my family enjoys vegetables is to grill them. We really enjoy grilling them in the summer. It is a great way to use up zucchini and yellow squash from the garden. I like to also add in some sliced mushrooms and onions.
I sliced all the vegetables up and let them marinate in Italian salad dressing for a couple of hours. I use either a home made dressing or a store bought dressing. The amount I use depends on how many vegetables I have. I usually use about 1/2 cup of dressing and I stir them around once or twice while they are marinading.
The one thing I do not like about grilling vegetables is the clean up. We have had several different grill pans or dishes that are made for items like vegetables. I have found these hard to clean up. They get very dirty and greasy after only a few uses. I found that I would rarely grill vegetables mainly because I did not want to have to deal with the mess. I have found a great solution though. Foil!
I lay a piece of foil on the grill and place the vegetables on top of the foil. It works great. When the vegetables are done I can just throw the foil out. No mess to clean up! I have found that I have to watch the vegetables a little more closely when doing it this way but it is worth it. Now I grill vegetables without worrying about how messy it is.
For more kitchen tips see Tammy's Recipes.