This Ground Beef Fajita Bowl has the flavors of fajitas in a simple rice bowl.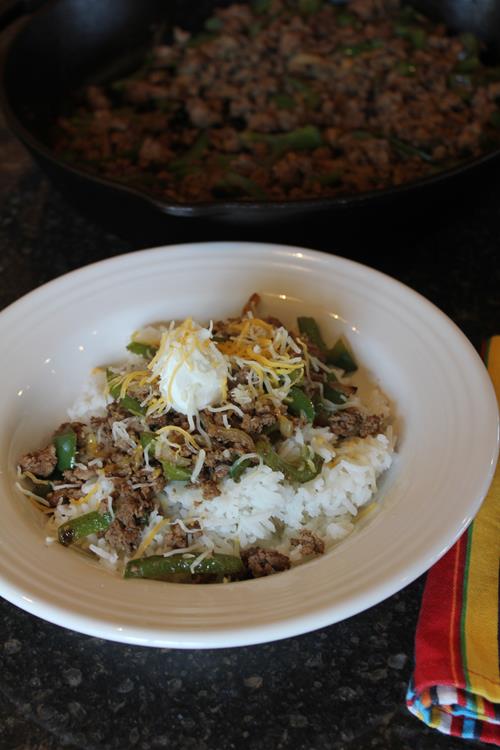 Quick and easy meals are what I have needed the last few weeks. The last few months actually.
It has been a crazy spring. Nothing bad, just lots of things going on. I think that is part of kids growing up and becoming teens. Three teens in the house makes for busy schedules.
One of the other things that I have discovered that having three teens means is that a lot of food is being consumed. More specifically a lot of food being consumed by a 14 year old boy that is 6 ft 2 inches.
I have been working on recipes that are quick, easy, filling, and family friendly because they are the type of meals that I need right now. I am pretty sure I am not alone on this. Don't most of us need quick, easy, family friendly meals?
One of the ways I have been making meals more filling is to serve them over rice and call them a taco bowl, burrito bowl, etc.
Taco and burrito bowls seem to be all the rage now. Adding something, or many things, on top of rice or quinoa and calling it a "whatever bowl" is definitely a food trend right now. They are everywhere.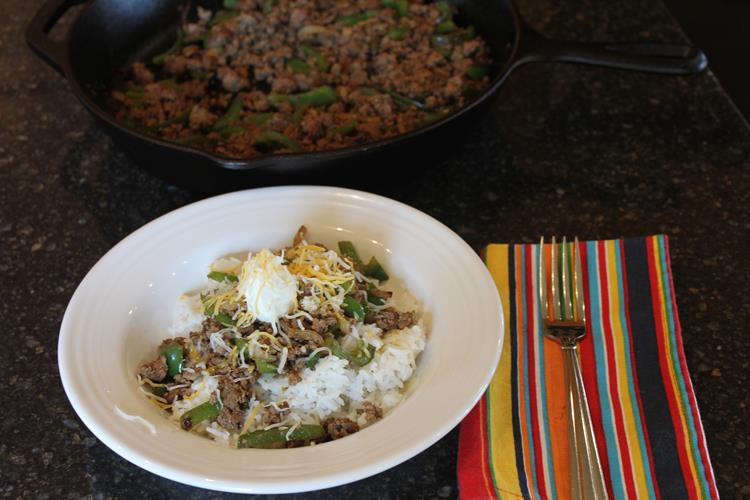 We love taco and burrito bowls and eat them often, but we tend to keep them pretty basic. My family is not a huge fan of strange food, especially for an every day type of dinner.
So I have been trying to change up the "bowl" type dinners that I serve, but keep them quick, easy, and teen friendly.
Ground beef fajita bowls were one of the recent "bowls" that I came up with. I used the flavors of fajitas, but instead of strips of beef or chicken I used ground beef. The price of ground beef is no longer cheap, but it is still one of the least expensive cuts of beef. You could also easily use ground turkey or venison for these.
I simply took the meat and pepper mixture and served it over rice with cheese, sour cream, and other toppings and called it a fajita bowl. My family loved it!
Well if you saw my post on Instagram recently you know that the green pepper hater in the family was not a fan, but they are not a fan of fajitas either, so they don't count. 🙂 Plus, the green pepper hater still ate it and had seconds, so they did not mind it that much.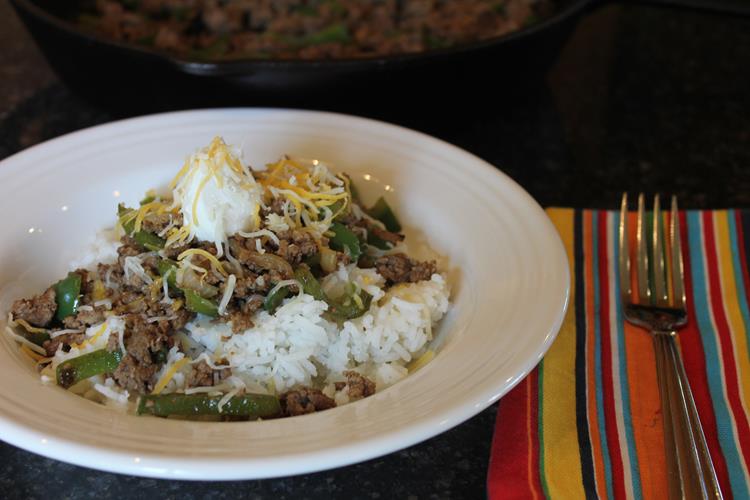 Yield: 8 servings
Ground Beef Fajita Bowl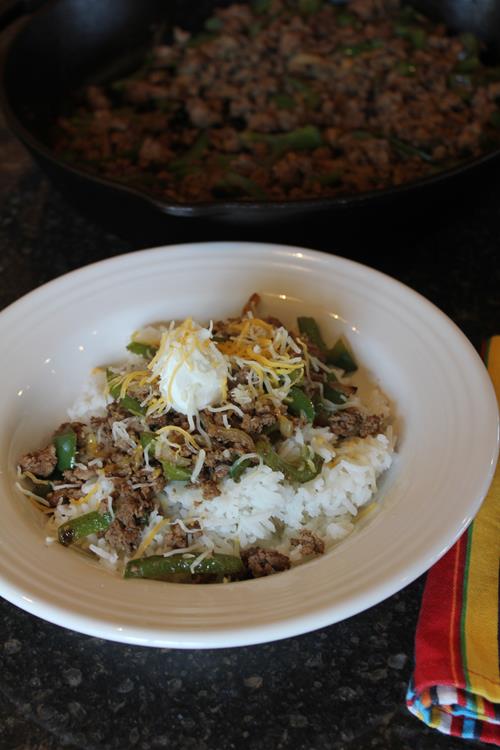 Change up taco or fajita night with these ground beef fajita bowl recipe.
Ingredients
2 pounds ground beef
2 tablespoons oil
1 tablespoon lime juice
2 teaspoons chili powder
1 teaspoon dry mustard
1 teaspoon dried oregano
1 teaspoon salt
1 teaspoon ground cumin
½ teaspoon coriander
3 green, yellow, orange, bell peppers sliced
1 onion, peeled and sliced
4 cups cooked rice
optional - sour cream, salsa, cheese, guacamole, etc. for toppings
Instructions
Heat oil in a pan or cast iron skillet. Once pan is hot add onion and cook over medium heat until tender and slightly browned. This takes about 5 minutes.
Add peppers and cook 3-4 minutes or until slightly tender. Remove peppers and onions from the pan and set aside.
In the same skillet cook beef until browned and done. Drain off any fat.
Add lime juice and spices to the meat and stir well.
Add pepper and onion mixture to the beef and cook for 2-3 minutes or just enough to combine flavors well.
Serve over rice with desired toppings.
Nutrition Information:
Yield:
8
Serving Size:
1
Amount Per Serving:
Calories:

506
Total Fat:

26g
Saturated Fat:

9g
Trans Fat:

1g
Unsaturated Fat:

14g
Cholesterol:

105mg
Sodium:

461mg
Carbohydrates:

33g
Fiber:

2g
Sugar:

6g
Protein:

35g
Nutritional values are approxomite and aren't always accurate.