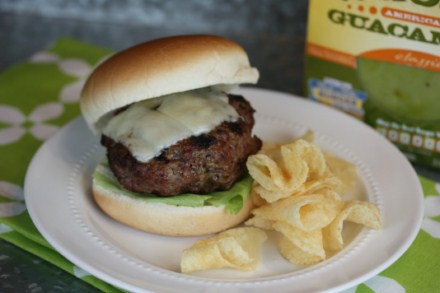 A guacamole bacon swiss burger anyone?!
I love guacamole and am always looking for fun ways to use it. It is great as chips and dips or spread on top of sandwiches and burgers, but it has such great flavor that I love to add it to all kinds of food.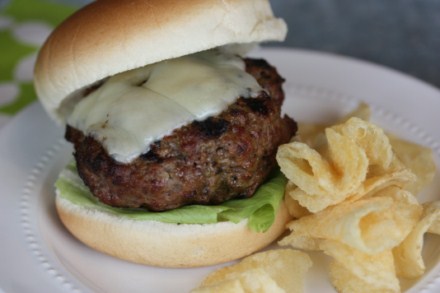 I recently decided to change up our hamburgers by adding some guacamole to them and they turned out great.
Now, I did not just serve the burgers with guacamole, I acutally added it into the meat along with some bacon and the flavor was amazing.
The combination of the guacamole throughout the meat and the bacon added to it, made for a seriously good hamburger.
Top it with swiss cheese and it is even better.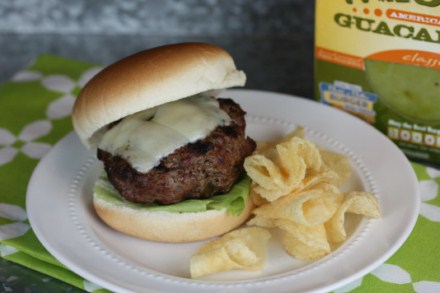 Guacamole Bacon Swiss Burger
Ingredients
2 pounds ground beef

1 – 7 ounce package Wholly Guacamole

6 pieces of bacon, cooked and chopped

6 -8 slices of swiss cheese, or cheese of your choice

6-8 hamburger buns

lettuce, extra guacamole, or additional desired toppings
Directions
Combine bacon, ground beef, and guacamole. Mix until combined and form into patties. (I made 8 hamburger patties, but this will depend on how large you make them. You do not want to make these too large because it is a wet burger and they will fall apart.)
Grill or cook hamburgers until desired doneness. I grilled them over medium high heat for about 4-5 minutes on each side.
Serve on a hamburger bun with swiss cheese, additional guacamole, and other desired toppings.
Wholly Guacamole: it's a whole lot more than dip. Vote for my Wholly Guacamole Recipe below and I could win one of three fantastic prizes! Click here for more fun and easy Wholly Guacamole recipes!
This is a sponsored conversation written by me on behalf of Wholly Guacamole. The opinions and text are all mine. Official Wholly Guacamole Contest Rules.