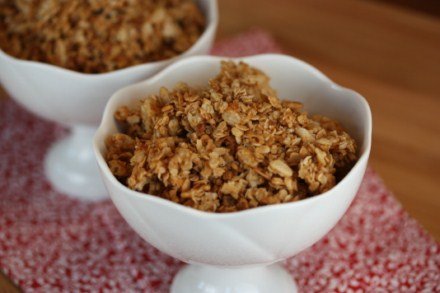 Granola is one of those breakfast foods that is so easy to make, but many people have never tried. If you are one of those that have never tried it, I encourage you to make some because it really is easy.
Not only is granola easy to make, you can control what goes into it and it is much less expensive than buying it in a box at the store.
I have quite a few homemade granola recipes on my site, but my family likes to keep breakfast fun and interesting and I like to come up with new flavors for them to enjoy.
We love this granola because it has Rice Krispies in it which makes it a little crunchier than some of the other homemade granolas that I make. That little bit of cereal added to this gives it a nice crunch and a little different taste that we really enjoy.
If you love homemade granola or want to give some other flavors a try you might like some of my other versions.
Homemade Coconut Granola is really good.
Easy Nut Free Granola is great for those with food allergies.
We love this Peanut Butter Granola and I used to make it all the time.
And pumpkin granola is perfect for fall, that is whenever we start having fall weather. Actually, this is really good anytime of year.
Crispy Homemade Granola
1/3 cup brown sugar
1/3 cup oil
1/2 cup honey
2 teaspoons vanilla
3 cups rice crispy cereal ( I use gf brown Rice Krispies)
4 cups quick oats
1 teaspoon cinnamon
In a small pan mix brown sugar, oil, and honey. Bring to a boil. Remove from heat and add vanilla and cinnamon.
In a large bowl combine oats and cereal.
Add sugar/oil mixture to oats and cereal and stir until everything is coated well.
Spread into 2- 9×13 pans.
Bake at 350 degrees for 10 minutes.
Stir and turn off oven. Put granola back into the oven for 3-4 hours. The heat left in the oven will finish cooking this.
Remove from the oven after 3-4 hours and let cool completely Store in an air tight container.