One of the pizzas we ate most often when I was growing up was hamburger pizza. My mom would sometimes put other things like peppers, onions, and olives on it, but the base of it was almost always ground beef .
I think the reason we ate hamburger pizza was because it was a pretty inexpensive meat that we almost always had in the freezer, and you could make it stretch between several pizzas. Ground beef made pizza an even more budget friendly meal than it normally was to make.
Over the years I have gotten away from making my family hamburger pizza, but occasionally when I am out of pepperoni, sausage, or other meat, I make a simple pizza out of ground beef. And I always wonder why I don't make it more often that way.
I almost always have ground beef in the freezer and cheese in the refrigerator, so homemade hamburger pizza is a meal I can make anytime with basic ingredients I have on hand.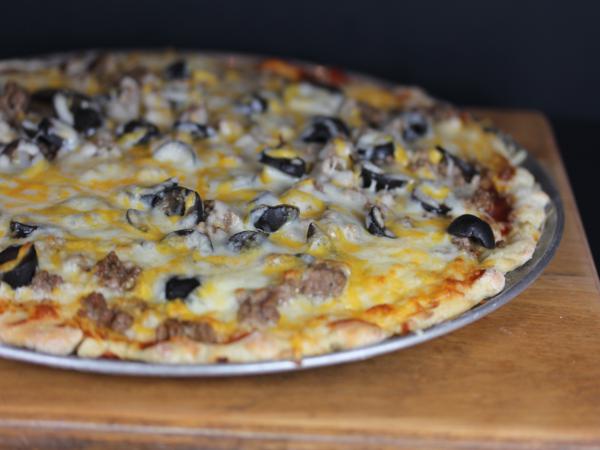 You will notice in the pictures that our hamburger pizza contains a lot of cheese. Most of the time my kids help me make the pizzas. The night I took pictures of the hamburger pizza, my kids helped. The amount of each topping on the pizzas will vary depending on who is in charge of it.
If certain children are in charge of the cheese, we end up with very cheesy pizza. I have learned that it is best to just go with it and let the kids top the pizzas how they want. It makes pizza night more fun if I just step back and let them have fun. Plus, who doesn't love a little extra cheese on their pizza.
My kids love olives, so if I have olives on hand, they often end up on the pizza as well. They also don't really like green peppers and onions on pizza, so we usually leave those off.
I am writing this recipe for two pizzas, because that is what my family makes, but you could easily adjust this since the amounts on the toppings can really vary.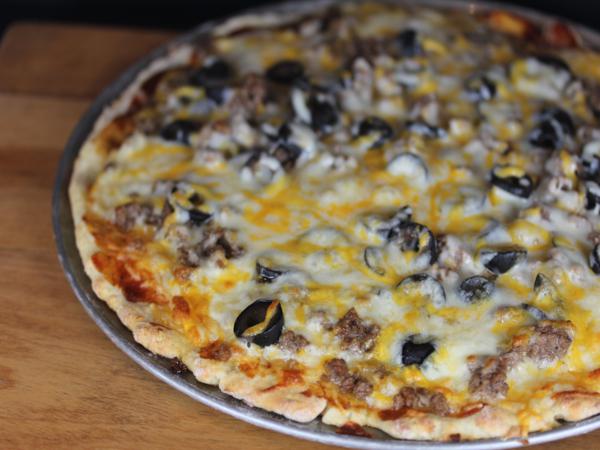 Yield: 12 servings
Hamburger Pizza
Homemade pizza made with with simple ingredients that you probably have on hand.
Ingredients
homemade pizza crust for 2 pizzas
1 pound ground beef, cooked
pizza sauce or marina type sauce
1 1/2 cups shredded mozzarella cheese
1 1/2 cups shredded cheddar cheese
optional toppings: sliced olives, green peppers, onions, tomatoes, etc.
Instructions
Spread sauce on crust.
Sprinkle with half of the cheese.
Sprinkle cooked ground beef evenly on pizzas.
Add any additional toppings.
Add remaining cheese.
Bake at 425 for 12-15 minutes or as according to pizza crust directions.
Notes
If you are gluten-free use a gluten-free pizza crust and read labels to make sure that your ingredients are gluten-free.
Nutrition Information:
Yield:
12
Serving Size:
1
Amount Per Serving:
Calories:

394
Total Fat:

19g
Saturated Fat:

8g
Trans Fat:

1g
Unsaturated Fat:

8g
Cholesterol:

64mg
Sodium:

474mg
Carbohydrates:

32g
Fiber:

2g
Sugar:

4g
Protein:

24g
Nutritional values are approximate and aren't always accurate.