I seem to be really hard on blenders. I do not know why. I have gone through four blenders in the fourteen years that I have been married. I don't think I use them more than most people, but maybe I do. Most people I know have had their blenders more then three or four years, which seems to be about my average.
I decided that I wanted to do something to help me not be so hard on my blenders, so I bought one of these.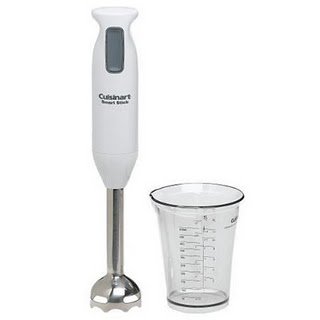 I waited until it was on sale at Linen & Things and I used a 20% off coupon. So, it was under $20. I have been wanting one for a while but did not want to spend the money. I am so glad I was finally able to get one. I love it. I have only had it a couple of months and I have used it a lot. I have used it to puree soups, blend my home made refried beans, and to make homemade applesauce. It works so good and I use it more than I realized I would.