Last week my husband and I went to Texas to pick up some of his grandparents furniture that no one else wanted. We knew that some of it was not in the best condition, but my husband wanted it anyway. We were able to get two small antique dressers that are in pretty good shape. I will try to post pictures of those next week.
We also got these tables.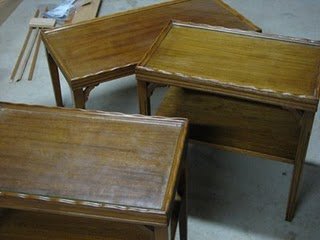 There is one coffee table and two end tables. I really do not know how old they are. I am guessing from the 50's or 60's but they might be newer than that. They are still pretty sturdy but they have been used a lot. They have quite a few marks and are missing a few decorative pieces from the sides.
I do not like to paint antiques. In fact I don't paint old furniture. We like the wood to show. We usually like the wear that old furniture shows. The only old piece of furniture that I have painted was one that had already been painted. But I am actually thinking of painting these. My husband really wants to use them and I do like them, but not like they are. I am thinking they would be much cuter and match my house better if they were black. I just can't decide. Part of me says paint them, you will love them. But the other part says don't paint them, you will regret it.
I figure they may be worth painting because they are not in that great of shape, but than I think I may regret it. What do you all think? Paint or no paint?
For more great ideas see Antique Thingies Thursday and Show and Tell Fridays.