GIVEAWAY CLOSED
Winners are:
Linda I get your update via email. It has given me some new ideas. I agree with you about Taste of Home. I love their recipes. Several have become family favorites.
Merica I am a subscriber!
and
Paige I just liked you on facebook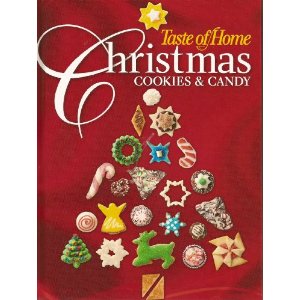 It is no secret that I love Taste of Home recipes and cookbooks. They helped teach me how to cook and I have been using their recipes for years.
Thanksgiving is over and now we can all start thinking about holiday cookie and candy making.
So today in honor of the upcoming baking season I am giving away three copies of Taste of Home's Christmas Cookies and Candy Cookbook.
Giveaway will end Tuesday November 30 at 6 pm.
To Enter to win:
All you have to do is leave me a comment.
For bonus entries: (please leave a separate comment for each bonus entry)
If you received this post through email, please click through to my site and leave a comment on this post.
For any questions please see my giveaway policy.