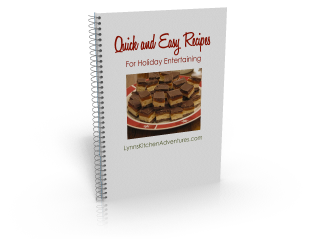 I love baking and entertaining, especially during the holidays, and over the years I have found many recipes that I love to use for holiday baking.
This year I decided to put together an ebook full of my favorite holiday recipes. I titled the ebook Quick and Easy Recipes For Holiday Entertaining and the recipes are just that, quick and easy and perfect for the holidays.
These recipes work not only for entertaining, but many of them work well for homemade food gifts. And who doesn't love a gift of candy or chocolate!
Instead of charging for this ebook, I wanted to offer it free. So from now until the end of December I am offering this 23 page free ebook to readers of my site.
If you are a current subscriber and are reading this by feed then you will find the link to download this ebook at the bottom of this post.
If you are not a current subscriber and would like to receive this free ebook, all you have to do is sign up for my updates and the link will be in the bottom of the updates that you receive. There is a box at the bottom of this post to sign up for updates.
I have posted a page with more details about the ebook that explains more about it.
I appreciate my readers and I hope you enjoy the ebook.
And Happy Baking!