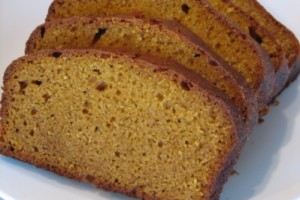 In case you can not tell by the amount of pumpkin recipes that I have been posting, we love pumpkin in our house, especially around the holidays.
One of our favorite holiday recipes to make is the Delicious Pumpkin Bread I posted about a few years ago. I have been making it for years and my family looks forward to it each year around the holidays.
This pumpkin bread is really more of a dessert than a bread, but I serve it either way. My kids think I am a wonderful mom when I let them have it for breakfast, but that does not happen often because it is not the healthiest of recipes, but oh is it good.
I recently adapted this holiday favorite to be gluten free. I posted it yesterday in my allergy section. If you are gluten free or have a family member that is gluten free this would be a perfect holiday bread or dessert to make.