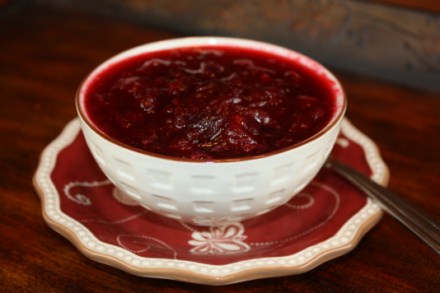 I don't know about you, but I grew up eating the cranberry sauce from a can. You know the kind where you can see the lines from the can indented in it. Yes, that is the cranberry sauce that made an appearance at our Thanksgiving table every year.
Because of this I grew up thinking that I did not like cranberry sauce, but really it was just the canned cranberry sauce that I did not like.
It was not until I made my own homemade cranberry sauce that I discovered that I actually enjoyed it. I realized that cranberry sauce could be good.
And not only does homemade cranberry sauce taste so much better, it is actually quite easy to make.
There are a lot of versions for homemade cranberry sauce with extra ingredients added in, but I like to keep it simple and basic.
One of the things I like about homemade cranberry sauce is that you can make it ahead. This can easily be made several days before Thanksgiving, which is always nice during the busy holidays.
If you have never tried making cranberry sauce you really should give it a try.
Do you like cranberry sauce? And if your answer is no, have you ever tried the homemade kind?

Homemade Cranberry Sauce
1 cup sugar
1/4 cup water
1/4 teaspoon salt
1 (12 ounce bag) fresh cranberries
In a pan bring sugar, water, and salt to a boil.
Stirring occasionally until sugar is dissolved.
Stir in the cranberries and reduce heat to a simmer.
Stir until sauce is thickened and cranberries begin to break open.
This takes about 15 minutes.
Cool to room temperature for at least 1 hour before serving. This will thicken some as it cools.
Serve and enjoy!