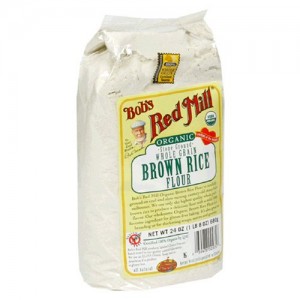 One of my goals lately has been to make my gluten free baked goods healthier by using healthier gluten free flours.
One of the ways I have been doing this is by cooking more with brown rice flour. My family however does not like the grainy texture that you often get from brown rice flour.
One solution to this problem is to use a superfine brown rice flour. I have never tried it, but my sister has and loves it.
I have not tried the superfine rice flours mainly because of the cost. They are more expensive than regular brown rice flour. I have not been able to find it anywhere locally, so I would have to order it online. I just could not justify buying it with the added cost of shipping.
However, I was intrigued by the idea of a superfine flour and wondered if it would make a difference in my baked goods.
After thinking about it for some time, I realized that really the only difference in regular brown rice flour and the superfine brown rice flour was the texture. The superfine rice flour had been ground finer.
I started to think how I could recreate this fine texture at home. The answer was actually quite easy, I could use my blender. It would easily grind it finer. I gave it a try and loved it.
Now, I have not used super fine brown rice flour that companies sell, so I can't say how it compares exactly, but I can say that the blender does get the brown rice flour finer than it normally is.
And because it is finer, it greatly improves the texture of my baked goods. It works so well, that I think I am going to try doing it to my white rice flour as well and see if we like the texture of that better also.
Has anyone else tried making superfine rice flours at home?