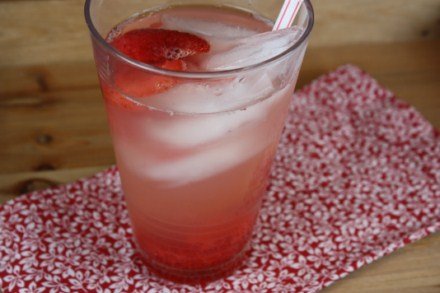 My family loves to eat at Red Robin. I have loved it since I was a teenager and my best friend and I discovered how good it was.
Now, my family loves Red Robin because our local one is very allergy friendly. I know this varies by restaurant, but our Red Robin is always great and so nice when it comes to dealing with our family's food issues. We love them.
Because of all our food allergies we rarely go out to eat, but when we do go out to eat, we usually splurge a little and get a few things that we never used to spend money on.
One of those things is drinks. Our family almost always gets water. You rarely see us with pop, juice, or anything else when we are out to eat, but recently when we went out to eat at Red Robin we let our kids get a treat of freckled lemonade.
And they loved it! I knew right away this might have been a mistake because they loved it so much, I knew they would want it every time we ate at Red Robin.
Now, I have to say that it was very good and I enjoyed the glass full that I had. Well, okay it was free refills, so I had several glass fills. It really was good.
But I knew it was probably nothing too special because it tasted like just lemonade and strawberries.
So, when I got home I set out to figure out exactly how it was made. I did some online research and some taste testing and I think we came up with something pretty close to the real Red Robin Freckled Lemonade.
There is a couple of tricks though to getting this right.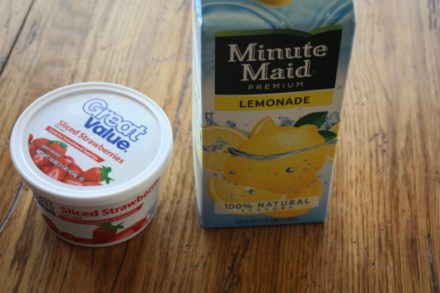 You need to use a very sweet lemonade like Minute Maid lemonade. I usually avoid really sweet lemonade, but for this it works.
You also need sweetened strawberries. Not just any strawberries, but the frozen kind that come sweetened and that have a syrupy type liquid to them. You want all that sweet strawberry juice.
Now, that you have your main ingredients, this really could not be easier. Because those two ingredients, plus ice is all you need.
Yield: 1 serving
Homemade Freckled Lemonade Recipe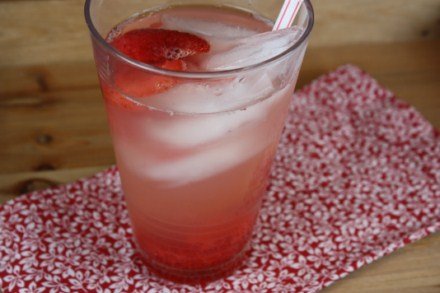 A make at home version of one of my favorite restaurant drinks.
Ingredients
a glass
ice, I like to use about 1/2 a glass of ice, but you can use less
2 tablespoons of strawberries with syrup, thawed, you want to be sure to get some of the syrup
1 1/2 cups lemonade
Instructions
Place ice in the glass.
Spoon strawberries over the ice.
Add lemonade to fill the glass.
Drink and enjoy! And yes it really is that easy.
Nutrition Information:
Yield:
1
Serving Size:
1
Amount Per Serving:
Calories:

595
Total Fat:

0g
Saturated Fat:

0g
Trans Fat:

0g
Unsaturated Fat:

0g
Cholesterol:

0mg
Sodium:

122mg
Carbohydrates:

156g
Fiber:

0g
Sugar:

108g
Protein:

0g
Nutritional values are approximate and aren't always accurate.