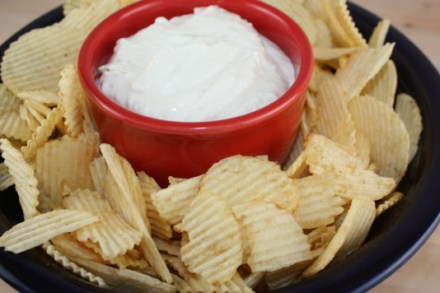 Homemade french onion dip brings back memories of my childhood. I have always loved chips and dip and they were a real treat when I was growing up.
My mom would occasionally buy a bag of potato chips and a few containers of dip and we would enjoy them for a fun treat. My favorite kinds of dip for her to buy were clam dip, yes that one is a northwest thing, and onion dip.
Over the years I have occasionally bought onion dip, but none of them are quite like the ones I remember eating as a kid. I finally decided that the best way to find what I was looking for was to make my own. This way I could adjust the onion, seasoning, and the other flavors of the dip to be just the way I like them.
After trying and adjusting a few things I came up with a version that I love.
When I recently served this homemade onion dip to my kids they decided that is should be called "too good dip". They kept saying that it was just too good and that they could not stop eating it and I agree this onion dip was really good.
This is a perfect recipe to use when entertaining or having a large group of people over. My family would love to snack on this during a football game and it would be so easy to make ahead and serve to family and friends.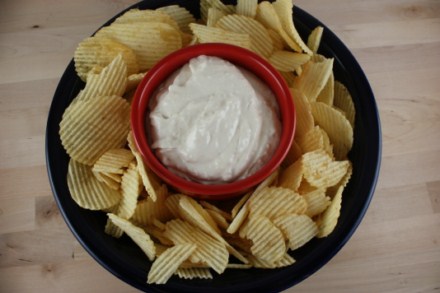 Onion Dip
1-2  tablespoons of oil
1 onion, chopped
2 cloves garlic, minced
1/2 cup water
1 cup sour cream
8 ounce of cream cheese
2-3 tablespoons mayonnaise
½ teaspoon salt ( or more to taste)
½ teaspoon Worcestershire sauce
Cook onion in oil until very soft and tender and slightly browned. This will take about 10 minutes.
Add garlic and cook for about 30 seconds.
Add water and cook until the water is mostly evaporated. Do not skip this step, this will help deglaze the pan and loosen up the bits of onion that are full of flavor.
In a food processor mix onion mixture with remaining ingredients until smooth.
Refrigerate for several hours before serving.
If you do not have a food processor this can just be mixed together until very smooth. However it will not be as smooth as it will be made in a food processor.
This post linked to
Works For Me Wednesday
and
I am lovin' It
.