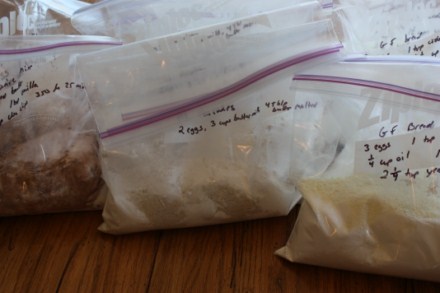 Gluten free baking contains so many more ingredients than regular baking that it often takes much longer to make a recipe.
After having a really busy couple of weeks I knew that I needed to do something to help save me time in the kitchen, but that still allowed me the ability to make at home, from scratch items.
This weekend I put together some homemade baking mixes. This works perfectly for those that are nut and/or gluten free.
Those of use with food allergies know the importance of knowing what is in our food. Store bought mixes can be expensive and risky to eat for those of use with food allergies. By making mixes at home myself I know exactly what is in the food we are eating. There is no worry that we will react to something we are eating.
This weekend I put together baking mixes using my favorite gluten free pancake recipe, my favorite brownie recipe, and my gluten free bread machine bread recipe.
You could easily do this though with any recipe. All you have to do is mix together the dry ingredients in a ziplock bag. Label the bag with the wet ingredients that you need to add at the time of mixing and baking.
It took me less than thirty minutes to put together six bread mixes, four pancake mixes, and two brownie mixes. Having these on hand will make it so convenient to just grab and make on a busy day.
Do you make homemade baking mixes? If so what is your favorite kind to make?
This post linked to Works For Me Wednesday.