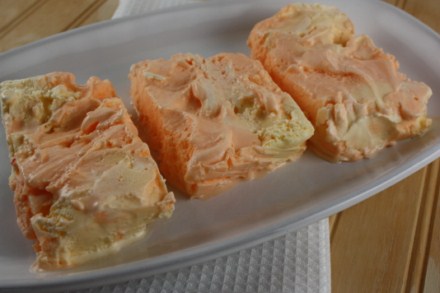 Remember orange creamsicles from your childhood? Well I do, and I used to love them.
I love making homemade versions of my favorite foods because they are usually healthier and less expensive. I knew orange creamsicles would not be hard to create at home because they are basically just orange sherbet and vanilla ice cream.
I have seen quite a few different recipes for these, but I think this one is the easiest and closest to the real thing.
Well, okay these don't look quite like the real thing, but they sure taste like them.
Here is what I did.
Homemade Orange Creamsicles
orange sherbet
vanilla ice cream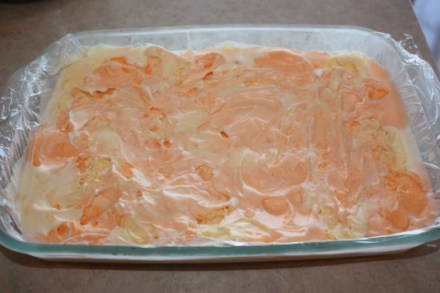 Let the ice cream and sherbet sit out at room temperature for about 20 minutes. You want it slightly soften. Line a 9×13 pan with plastic wrap and scoop ice cream and sherbet into pan. I alternate the scoops and then swirl it together. Freeze in the pan for a few hours or until solid. Cut into bars and serve. (You could also make these in a loaf pan). Cut into bars and enjoy!