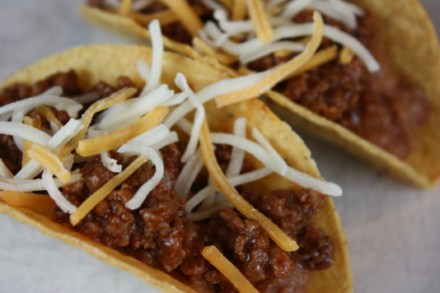 We eat a lot of Mexican type food in our house. The majority of it is in the form of tacos, nachos, and burritos, all of which I use seasoned taco meat for.
I have been looking for years for a homemade version of taco seasoning that we like, only to be disappointed time and time again. I would always go back to those little packets of taco seasoning that you buy at the store.
I have also been asked many times if I had a homemade taco seasoning recipe. I would always have to admit that I bought those packages of seasoning from the store.
Well, I will no longer have to season my taco meat using those little packets. I finally came up with a homemade taco seasoning that my family really enjoys. I basically stopped trying recipes for taco seasoning and just used the spices that my family enjoyed and it worked. We love this.
I like to mix a large batch of the spices up and keep it in a small jar in the cupboard. All I have to do is add in the tomato sauce and beef when I am ready to cook it. That way it is still a homemade seasoning mix, but it has the convenience of the store bought version.
Homemade Taco Seasoning
1 tablespoon chili powder
1 teaspoon cumin
1 teaspoon coriander
1/2 teaspoon oregano
1/2 teaspoon or to taste salt
2 teaspoon cornstarch
1/2 cup tomato sauce
1 teaspoon brown sugar
1 pound ground beef
Combine chili powder, cumin, coriander, oregano, salt and ground beef and cook until beef is almost completely browned and cooked.
Add cornstarch, sugar,  and tomato sauce and continue cooking until meat is done and sauce is slightly thickened.
Serve as a filling for tacos.