This week's recipe for my Year of Martha Stewart Cooking Challenge is for Instant Pot Grits. Or as Martha calls them pressure cooker polenta.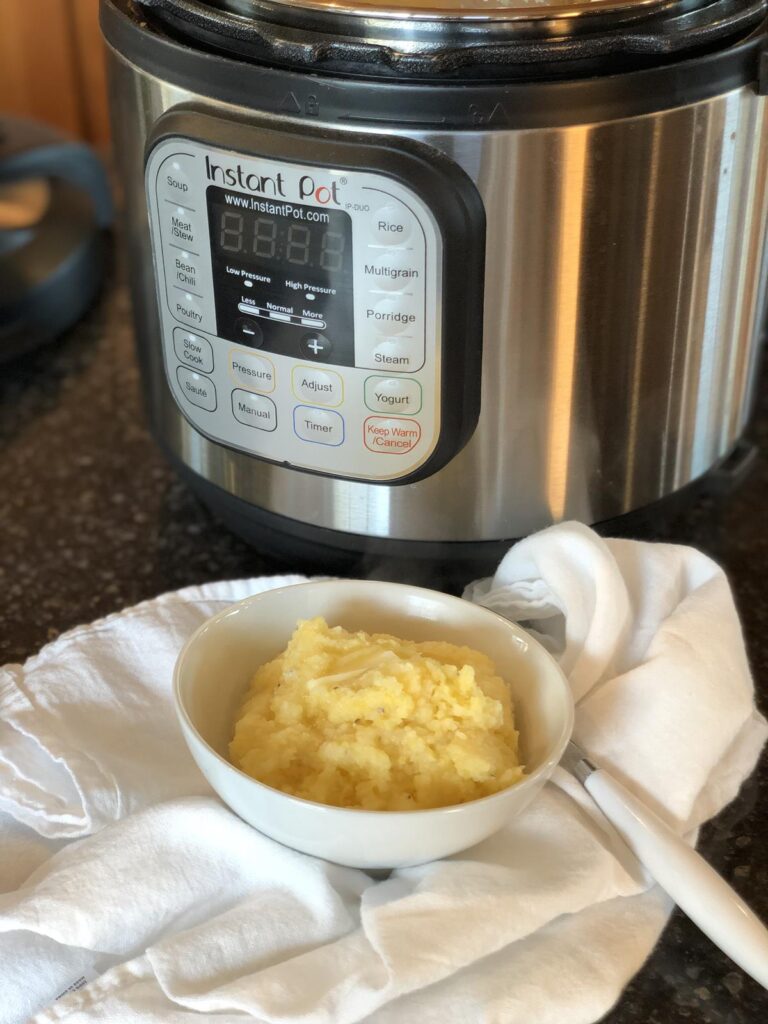 The first time I had grits was after I moved to Oklahoma. That means I was an adult. Grits were not something that we ate growing up in Oregon. I had heard of them but had never eaten them.
My husband on the other hand grew up in Oklahoma. Grits were something that he was very familiar with. In fact, he loved them.
I quickly learned that grits come in multiple forms. Stone ground, quick cooking, and instant. They can also be made from white, yellow corn, and even blue corn.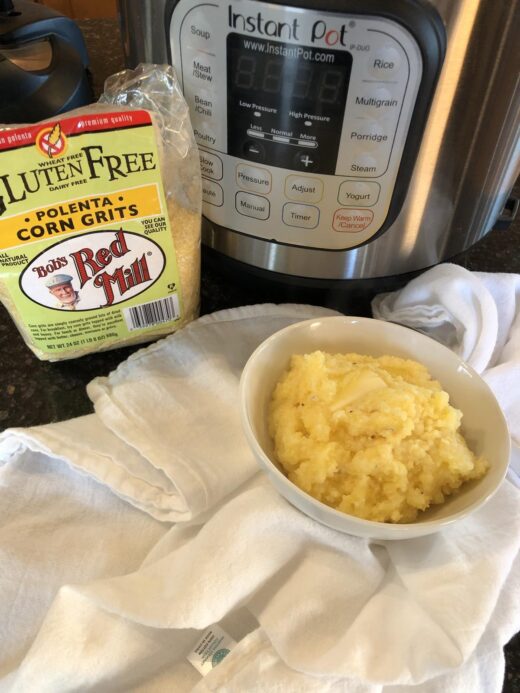 What is the difference between grits and polenta?
The biggest difference is mainly culture. Grits are common in the southern part of the U.S. Polenta is Italian.
Polenta is usually stone ground yellow corn. Grits can be made from yellow or white corn.
There is also usually a difference in how they are served and what they are served with.
Martha Stewart's Pressure Cooker Polenta
This recipe for Instant Pot Grits comes from Martha Stewart's Pressure cooker cookbook. This is one of my newer Martha Stewart cookbooks. To be very honest, it isn't my favorite Martha Stewart cookbook.
It isn't quite what I thought it would be. It has basic cooking instructions for different foods and then gives you different ways to use them. So a good portion of the recipes are not really pressure cooking recipes.
I do like that the pressure cooker recipes give instructions for stove top and electric pressure cookers. Not many people use a stove top pressure cooker anymore, but there are some people that do. This cookbook is a good option if you have a stove top pressure cooker and have never cooked much in it.
One of the other things that I did not like about this book is that some of the recipes are pretty fancy. They might be delicious, but in general, they are not recipes that I would cook.
This recipe though is delicious! The Instant Pot is my new favorite way to cook grits. The Instant Pot makes them perfect every time.
Martha does call these Pressure Cooker Polenta, but I used Bob's Red Mill polenta which they label as corn grits. I also served them like we would grits with eggs and cheese.
No matter what you call them if you love polenta or grits give this Instant Pot Recipe a try.
Note: The polenta/grits I used were a package that I have had for a while. I actually found them in the freezer. Bob's Red Mill now makes a gluten-free grits that I would use to make sure that they are gluten-free.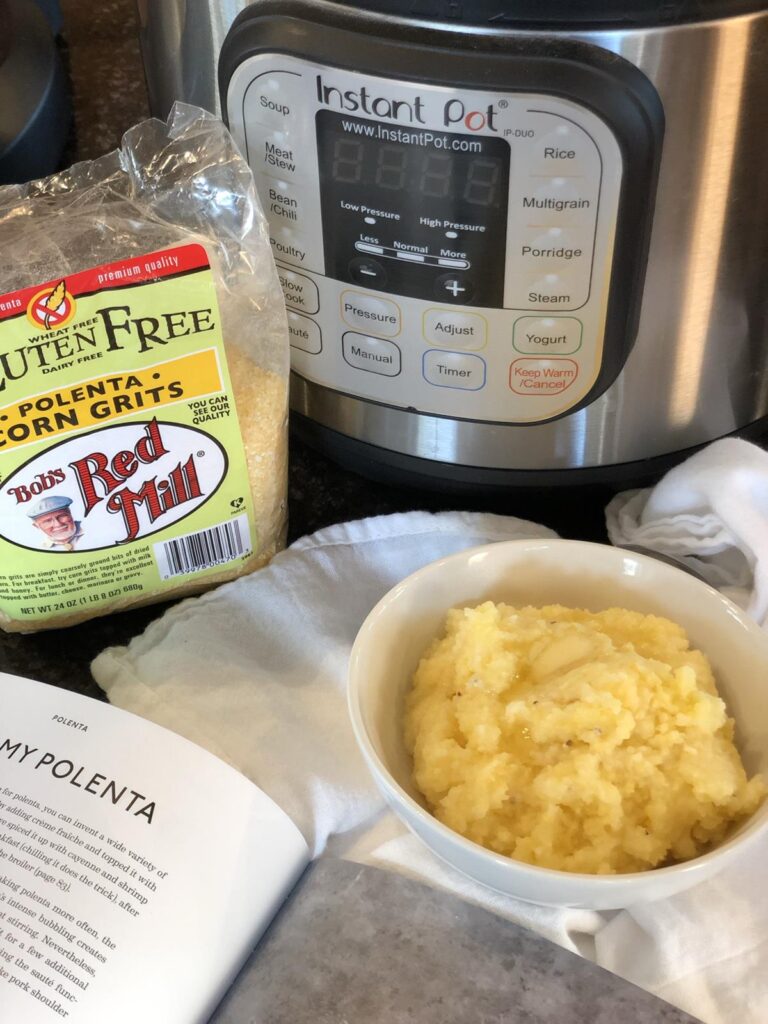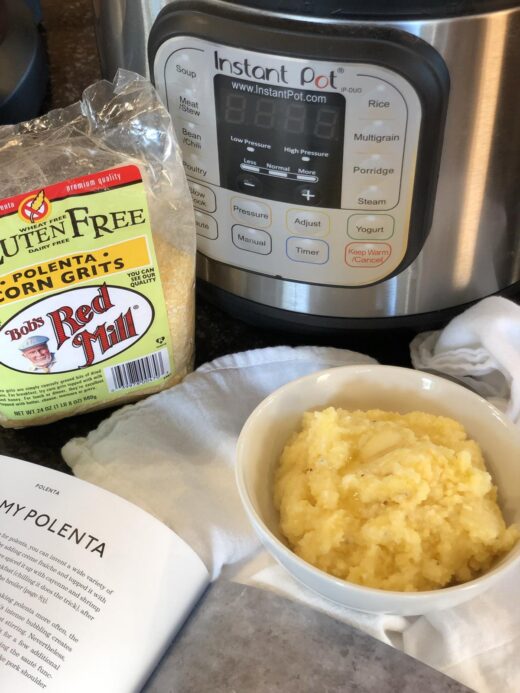 How to reheat grits?
We often have leftover grits that we eat for breakfast or lunch the next day. You can just reheat them in the microwave, but we like to add a little water or milk to them to add a little moisture when reheating.
Ingredients
stone ground grits or polenta, not instant or quick ones
water
salt
butter
cheese or other ingredients for serving
Instructions
In your Instant Pot stir together grits, water, and salt.
Secure lid and set valve to sealing.
Set to manual for 14 minutes.
Once done, release the pressure manually.
Carefully remove the lid.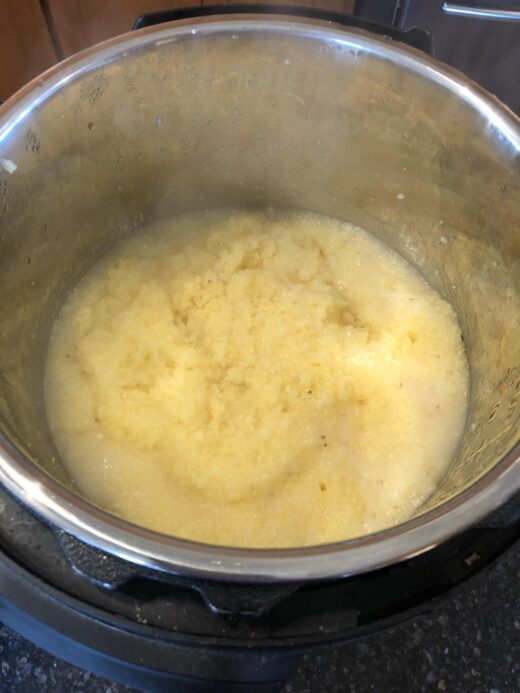 There will be some liquid around the edges. Stir together until well combined.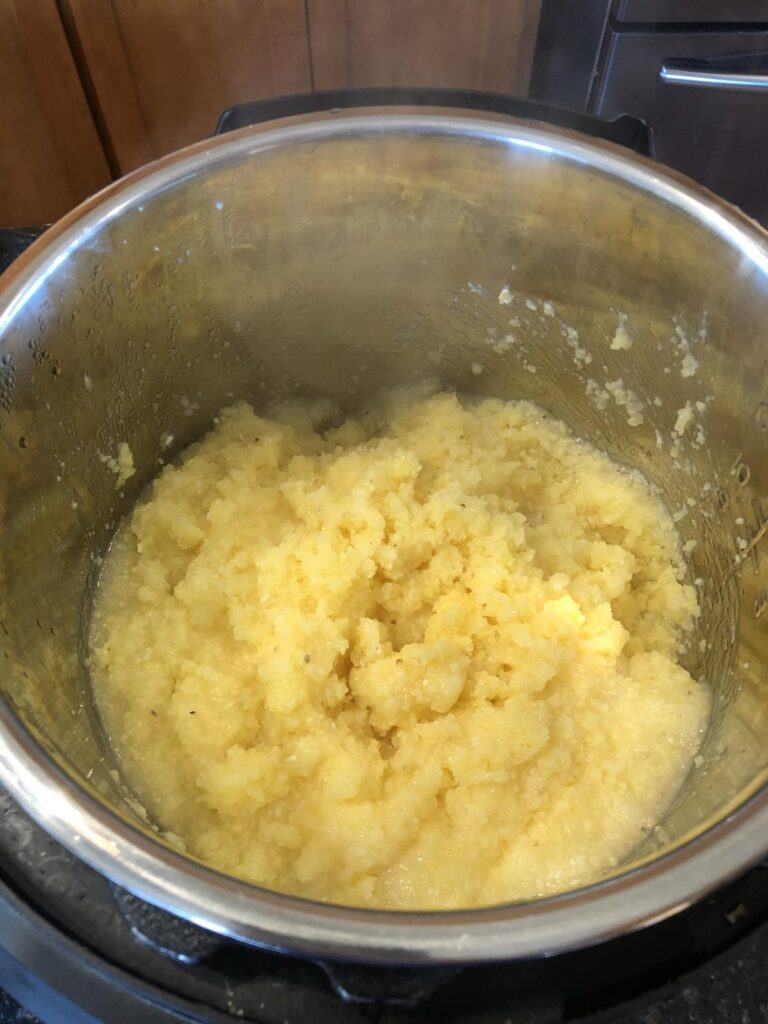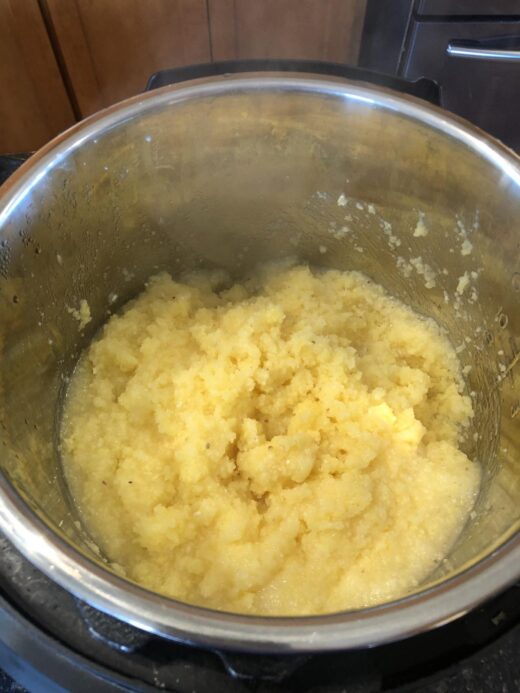 The grits stuck to the bottom of the pan slightly, but not much. They stirred together fine.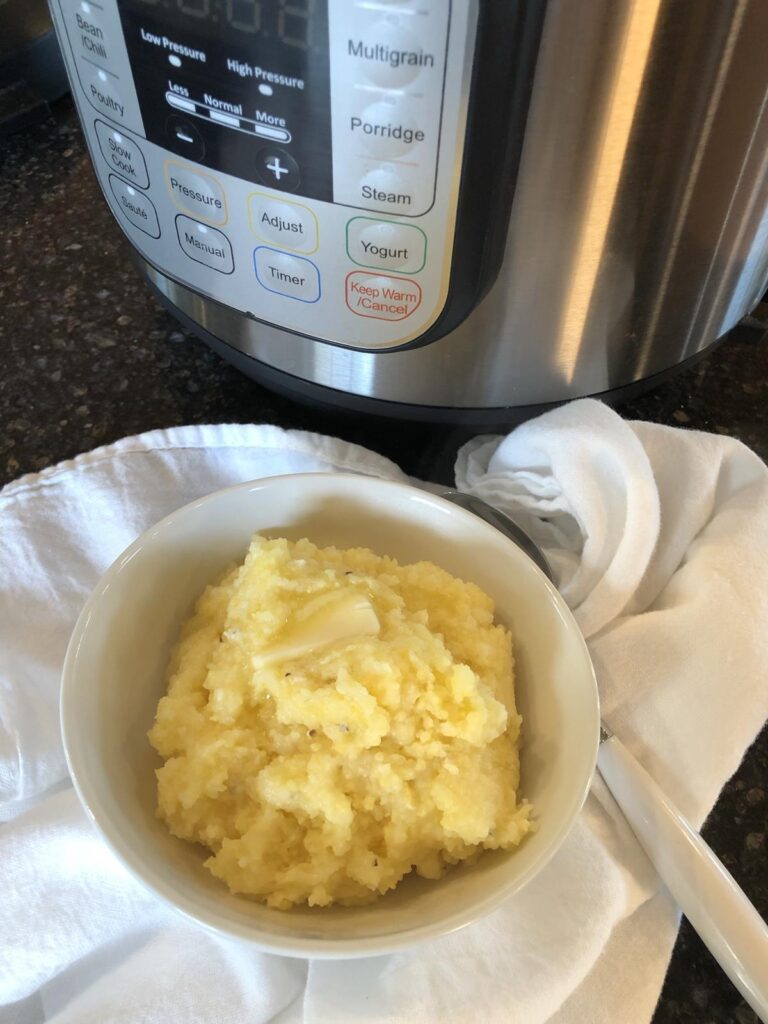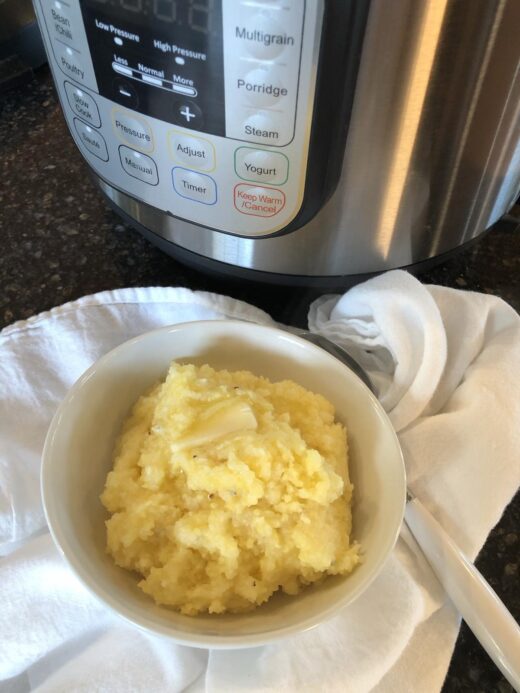 Yield: 4 servings
Instant Pot Grits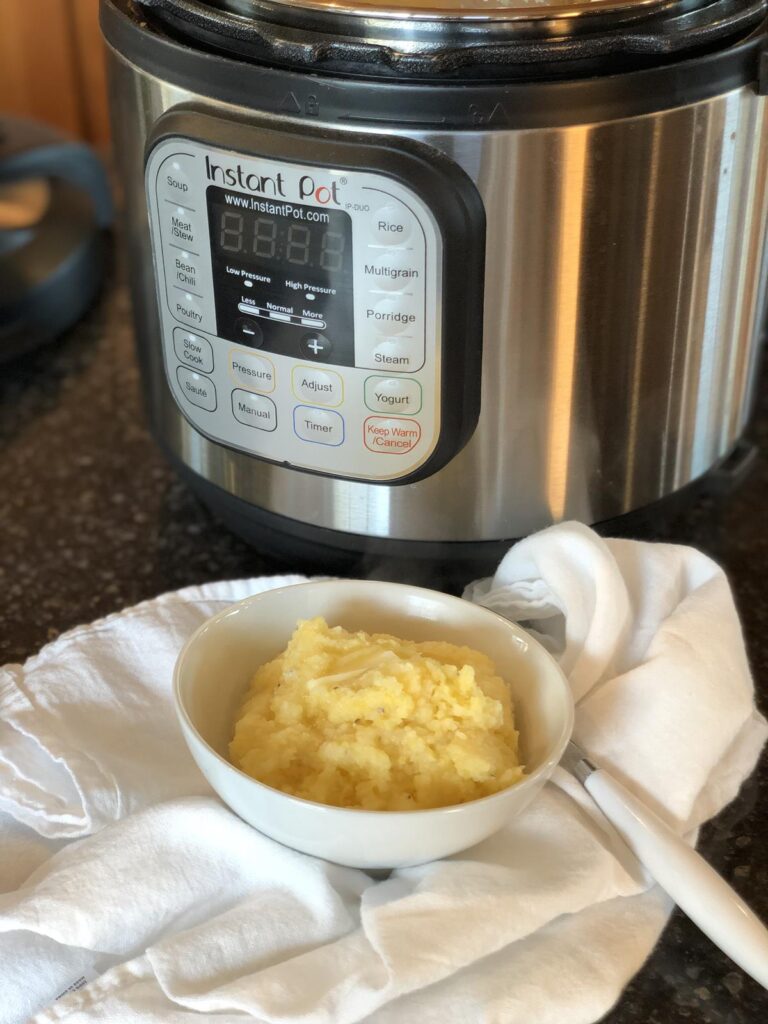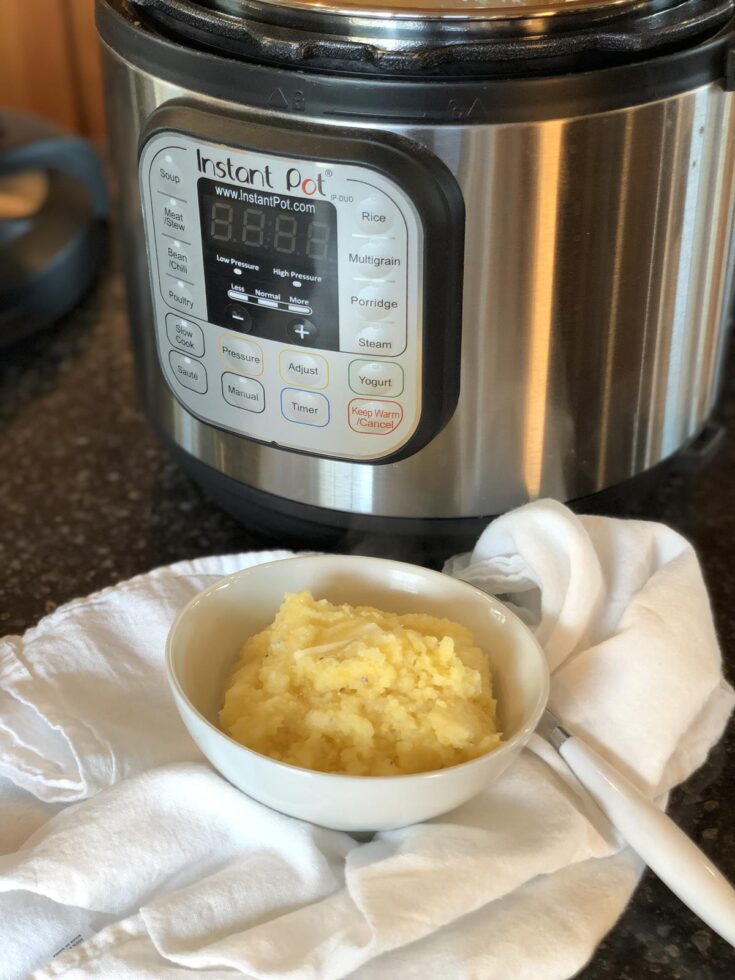 Grits made easy every time in the Instant Pot
Ingredients
4 cups water
1 1/3 cups stone ground grits, not quick or instant
1 teaspoon salt
2 tablespoons butter
Instructions
In a 6 qt to 8 qt Instant pot, stir together grits, water, and salt.
Secure the lid and set the valve to sealing.
Set for manual cooking 14 minutes.
Carefully release pressure.
Remove lid.
Stir grits until smooth and well combined.
Serve with butter or as desired.
Notes
If you are gluten free be sure to use gluten free grits.
Nutrition Information:
Yield:
4
Serving Size:
1
Amount Per Serving:
Calories:

101
Total Fat:

6g
Saturated Fat:

4g
Trans Fat:

0g
Unsaturated Fat:

2g
Cholesterol:

15mg
Sodium:

585mg
Carbohydrates:

11g
Fiber:

1g
Sugar:

0g
Protein:

1g
Nutritional values are approximate and aren't always accurate.