Today I have the second interview in my new series interviewing gluten free bloggers. A few weeks ago Linda The Gluten Free Homemaker shared her thoughts and today we are featuring Shirley of Gluten Free Easily. Linda and Shirley were both so much help when I first went gluten free, that I knew I they had to be the first two bloggers I interviewed. Their help and support got me through those first few months of figuring out what the gluten free life was all about.

Thanks Shirley for all your help and support and for taking the time to share your thoughts today with my readers.
I'm a blogger and gluten-free support group leader who is passionate about teaching folks to live gluten free easily, which is also the name of my original blog. I believe that individuals who go gluten free should not just be gf, but gfe. The gfe approach focuses on real food first and foremost, some mainstream naturally gluten-free foods, and just a few gluten-free specialty items. I believe this approach is the healthiest, least expensive, and most enjoyable way to live gluten free. It works not just for the gluten-free individual, but also for everyone in the family, because real food and recipes made from real food with few specialty ingredients taste the same and don't have odd texture issues. I also have another blog, All Gluten-Free Desserts … All the Time, which features the best gluten-free dessert recipes from terrific bloggers like Lynn.
Who in your family is gluten free?
Both my son and I are gluten free.
How long have you or your family member been gluten free?
I've been gluten free since June 2003, so it's been almost 10 years now. My son has been gluten free for over 5 years.
What changes have you seen in gluten free over the last few years? Do you think those changes are for the better?
There are far more restaurants that have gluten-free menus and far more gluten-free products. As far as whether I think that the changes have been good or bad, it's been a mixed bag really. Putting a "gluten-free" label on something doesn't mean it's really gluten free. Honestly, I've had more bad experiences with gluten-free menus than I have eating at restaurants and eating what is naturally gluten free and talking to staff members about keeping my food safe. Similarly, I'm very sensitive to even the smallest amount of gluten so gluten-free products that are gluten free to less than 20 ppm are not sufficiently "gluten free" for my needs. I also think that the increase of gluten-free products has folks make a delayed transition to living naturally gluten free, which is by far healthier and less expensive than relying on a host of "gluten-free" products to survive.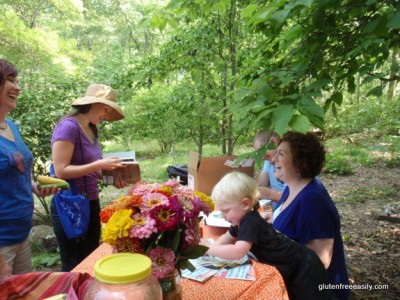 Do you deal with any other food allergies or intolerances besides gluten?
There are several grains/pseudo grains/legumes that I need to avoid to feel my best. Likewise, I have dairy "issues" (sadly), so I don't eat it every day. When I do eat dairy, it's usually in the form of organic butter, which has health benefits. I seem to do fine with organic butter.
What advice would you give someone new to gluten free eating?
Write down everything that you are eating right now from ready-made items, to favorite recipes, to whole food items. Then go through these one by one and see which ones are naturally gluten free and which ones that you can easily "make" gluten free. You're going to find that you will have far more choices than you thought possible. Is your favorite veggie steamed broccoli? It's gluten free of course. Just make sure any sauce that you add to it or other veggies are gluten free. And make sure that your whole foods are cooked in naturally gluten-free water, broth, etc. For example, some folks like to cook their potatoes in broth and use that to make mashed potatoes, but not all broth is gluten free. And some folks like to steam their seafood in beer. Unless you're doing that at home, using gluten-free beer, seafood cooked that way will not be gluten free. Hint: Whole, fresh foods are almost all gluten free, because most of us are not eating fresh wheat, barley, rye, or oats "as is."
Gluten free eating can be expensive. What tips do you have for dealing with gluten free eating and the grocery budget?
Buy very few gluten-free specialty items. Focus on foods and recipes that are naturally gluten free as I said in the previous answer. Unadulterated meat, seafood, fruits, and veggies are all gluten free. Most dairy products are gluten free "as is"—e.g., milk, sour cream, cheese, ice cream. There are many mainstream items that one can eat safely. I developed this "tip sheet", 50+ Gluten-Free Foods You Can Eat Today, for folks who are just starting to live gluten free, which largely focuses on every day foods with "normal" costs. Always read labels of anything processed though. Investigate the gluten-free status of your favorite brands and stick with them, but even then, always read labels, because product formulations definitely change from time to time. For baking, focus on flourless and crustless recipes, like flourless cookies, pudding, mousses, and the like. Ease into baking more complicated recipes and rely on gluten-free blogs and cookbooks with lots of fans and many positive reviews when you do. Find a simple gluten-free all-purpose flour mix recipe that you can make yourself at home. Mine uses only two ingredients Asian white rice flour and cornstarch. That leads me to the next recommendation … buy Asian flours and starches like white rice flour, sweet rice flour, tapioca flour/starch, and potato starch at your local Asian market or internationals market .
Do you attend, or have you ever attended a gluten free support group? If so did you find them helpful and why?
Well, since I'm actually a gluten-free support group leader, I'm obviously a fan! I co-founded our group with a friend in 2004. She left almost immediately to focus on her son and family, but I have led our group for almost 9 years now. Ours is an independent group with no association to any national organizations. I wanted it to be open to all (even the person who is just interested in learning about gluten-free living, but has no diagnosis of any kind), I wanted to be able to share any info with the group that I felt was valuable (with no restrictions from an organization above), and I was adamant that there would be no dues. I think it's important to find support from others who are gluten free. Gluten-free support groups can offer emotional support (especially after one initially goes gluten free), tips on living gluten free, information on ongoing research in celiac/non-celiac gluten sensitivity (which could be critical to those who still have family members who might be suffering without any type of diagnosis), an opportunity to eat a meal or a "spread" that is completely gluten free, and much more. But I'll be the first to tell you that gluten-free support groups are not all created equal. If you attend one and it doesn't give you needed support, then please by all means move on. Even if you find your local gluten-free support group to be fantastic, you still might only attend for a short while. That happens all the time with my group. Folks will attend a meeting or two and then "go off on their own," so to speak. We all lead busy lives, so I respect individuals' decisions to focus their attention elsewhere–without ongoing face-to-face support—once they are comfortable living gluten free. Most folks continue to belong to my group and receive informational newsletters, follow my blog, etc.; they just opt out of meeting participation. Even if you don't participate in a support group, you can still get online support, maybe meet gluten-free girlfriends from time to time, etc. I do encourage folks to get some type of "support" because only those who are gluten free themselves truly "get" the challenges of gluten free.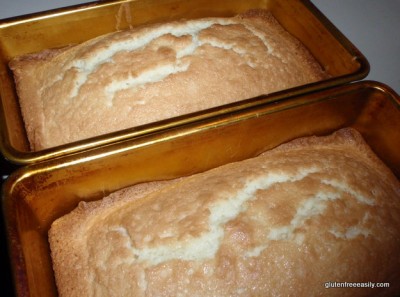 Gluten free eating can be challenging and time consuming. I would love to know a few of your favorite gluten free foods that you make and serve your family on a regular basis. (Feel free to include a little info and link)
Quick and Easy Dinner: Honestly, there are very few of my meals or recipes that are ever challenging or time consuming. Simple and quick meals and recipes are what we choose to eat at home and also the types of meals that my son and I eat when eating out. Oven-Steamed Shrimp is one of our family favorites. I always buy the shrimp when on sale and supplement the meal with a big salad and sides so a few shrimp go a long way. Grilled chicken and fish are easy meals. Again, we add veggies and/or salad. Sides of baked potatoes and steamed veggies are super easy and always loved at our house. Slow-cooked main dishes like Special Turkey Breast and Pulled Pork are wonderful to come home to! They're also very economical when the meat is purchased on sale and any leftovers can be turned into other easy and terrific dishes like Enchilada Casserole or Tortilla Soup.
Gluten Free Breakfast: My favorite breakfast always consists of leftovers from dinner. Leftover salmon is my favorite breakfast. Leftover cold Flourless Pizza is heavenly. I occasionally make make muffins (and have many muffin recipes due to my annual March Muffin Madness event) and waffles and such, and enjoy a good healthy smoothie (green, partly green, or not green), but most of the time I'm going for savory, protein-filled leftovers. I find I function much better that way. When entertaining guests though, I'm happy to whip up a Volcano Pancake or a Hash Brown Breakfast Casserole.
Gluten Free Dessert: In restaurants, that would be classic naturally gluten-free desserts like crème brulee, chocolate mousse, sorbet, gelato, and such. At home, it's usually cookies or pie that get us excited. I love to make flourless cookies and crustless pies! My most popular cookies are my Flourless Oatmeal Cookies and Flourless Peanut Butter Cookies, and my most popular crustless pie recipe is my traditional Crustless Pumpkin Pie. I also have a Dairy-Free Crustless Pumpkin Pie recipe made with coconut milk that everyone loves. Oh, and pound cake … my family, friends, and gfe readers love my Perfect Pound Cake. Obviously, I love desserts! I don't have time to make them all myself; that's why I created All Gluten-Free Desserts … All the Time.
Gluten Free Snack: These choices will sound boring, but most of the time I'm eating an apple and/or nuts for my snack. Leftover desserts are always enjoyed as a snack, too. I also make granola and protein-type bars like my Chewy Granola Bars and Popeye Fruit and Protein Bars. When "out and about," in addition to apples and nuts, I tend to rely on mainstream snacks that are naturally gluten-free, like potato chips and tortilla chips. It's very rare for me to buy gluten-free specialty snack products.
Do you have a favorite gluten free cookbook?
With tons of wonderful gluten-free blogger friends who have authored great cookbooks, there's only one safe way for me to answer that one! So, no, not a single cookbook. There really are so many excellent gluten-free cookbooks available now. Most of them fill different needs and most of them make terrific additions to one's cookbook collection. I also continue to use cookbooks that are mainstream and not "gluten free" in any way. Because I focus on simple, naturally gluten-free recipes and have learned to easily convert so many recipes to gluten free, I find such cookbooks to still be fantastic resources. I truly love my cookbooks from local churches and other local organizations and use them often for their naturally gluten-free recipes or ones that I can just slightly adapt to be gluten free. Such recipes appeal to everyone because there is no difference in taste or texture.
Do you have a favorite gluten free restaurant or place you like to eat?
I tend to go to the same restaurants over and over again, even ordering the same menu items usually–and a limited variety at that. We are not eating out constantly, so that approach works well for me. I don't feel limited at all. I just like eating my favorites time and time again. Therefore, I really hesitate to recommend any particular restaurant. I'll tell you that most of the time I'm eating at independent restaurants that use real food versus processed items brought in and I can talk to the chef or other personnel and get safe, delicious meals. For example, last night, we went to a favorite local seafood restaurant. I enjoyed steamed snow crab legs with a salad and baked potato, and brought home leftovers which I ate for my lunch today.
Thanks Shirley for taking the time to share your thoughts today!