One of my husband's staff members brought this jalapeno dip to a party recently and everyone loved it. This would be a perfect dip to serve on New Year's Eve or anytime that you serve chips and dip or other finger type food.
I knew my family would enjoy this, so I got the recipe for it and gave it a try last week. We all loved it. This is one of those recipes that is so easy and so good. I will be making this again soon.
Thank you Tiffany for the great recipe!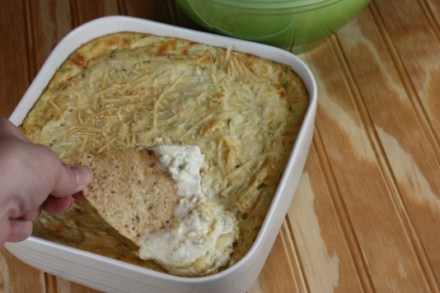 Jalapeno Dip
1/2- 1  cup chopped canned jalapeno, this is the kind that comes in a jar or can and is usually on the Mexican food aisle ( when I made this I used 1 cup and it was a bit spicy for some in my family so next time I will use 3/4 cup)
1 cup mayonnaise
2- 8 ounce packages of cream cheese- softened ( This will have a lighter fluffy texture if you use whipped cream cheese)
1 teaspoon cumin
1- 4 ounce can green chilies
1 cup grated parmesan cheese
tortillas chips for serving
Mix the first five ingredients together and place small casserole dish. Sprinkle with grated parmesan cheese. Bake at 350 for 25 minutes or until heated through and cheese is melted. Serve with tortilla chips.