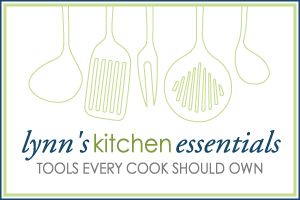 This year I hope to do a series on my favorite kitchen tools or what I consider my kitchen essentials. I thought this would be a fun way to give you a look into my kitchen. It will give you an idea of what I love and use most.
In reality I know most of these are not essentials. Let's face it, you can eat and cook with just a pan, a spoon, and a knife. Many people have survived with less then those three items.
We don't need all the gadgets and fancy items that most of us have in our kitchens. However, they make our lives much easier.
So, in this series, essentials will be relative. What I consider an essential some of you may not consider one. The point of this series is to simple share my favorite kitchen tools. The tools that make my life in the kitchen much easier. The tools that help my love of cooking fit into my busy life. The tools that save me time and give me better results.
I hope by doing this you will find some ideas and items that you did not know about. Or you might find a new use for an item you already own. I also hope you will share if you agree or disagree with me about it being an essential kitchen item. When I share why I like it, I hope you will comment why you agree or disagree.
I look forward to sharing this series with you. Look for my first essential kitchen tool next week. But for now what is your favorite kitchen tool?