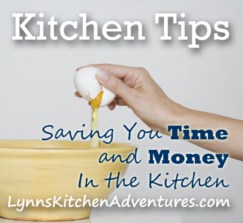 If you have read my site for long than you know that I love reading cookbooks and cooking magazines. I have spent many hours reading them over the years.
Not only do I find recipes in these books and magazines, but I find all kind of tips and ideas. These tips have made cooking so much easier for me.
Over the last year I have made a list of all these tips that I want to share with you. My list of tips that I have wanted to share keeps growing, so I decided to start a series where I can share these tips and ideas. My plan is to post one quick tip each week.
These tips are just simple things that I have found that save me time and money. They are not basics or essentials, they are simple fun tips and facts that make life in the kitchen easier.
I hope that you enjoy these tips and that you will learn new ideas that will save you time and money in the kitchen.