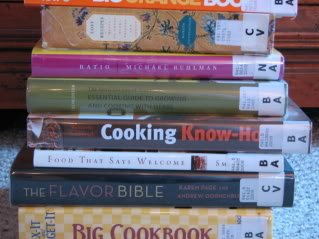 Guess what is in my library bag again, cookbooks of course. The problem is that I check out to many cookbooks and I don't get them looked through before they have to go back. I need to control myself better in the cookbook section of the library.
I have not had a lot of time to go through all of these, but here is a brief review of them.
Rachael Ray Big Orange Book- This is a combination of some of her other books and recipes. If you like Rachael Ray you will probably like this. It is basically a best of book.
Lost Recipes by Marion Cunningham- This book is full of good old fashioned recipes. I am copying several of them down that you will be probably be seeing soon.
Ratio-I love this book and find it very interesting. It is all about the science and ratios behind food and recipes. I hope to do a whole post on this book.
Essential Guide to Growing and Cooking with Herbs – I have not had time to look through this, but it looks interesting.
Cooking Know-How – Again I have not had a chance to look through it much.
Foods That Say Welcome -Simply, home style type recipes, good for entertaining.
The Flavor Bible – This is a great book for the experienced cook. It is not recipes, but full of information on what flavors go with what. A very useful book for the serious cook.
Fix It and Forget It Big Cookbook – I love the Fix It and Forget It books. I have used them a lot and I hope to do a whole post reviewing these books soon.
So, those are the cookbooks that I have been reading. Have you been reading any interesting cookbooks lately? I would love to hear if you have.