It is summer time, are your kids bored? I think all kids get bored at some point over the summer. They wait and wait for it to arrive and when it does they don't know what to do with all the time they have. They no longer have a schedule or routine. So, let's give them something to do.
One of the things that works for us is cooking with the kids. My girls are really enjoying learning how to cook. I thought I would share one of their favorite deserts to fix. Now this is not really cooking, but they feel like it is. They think it is great that they "cooked" desert for the family.
This is easy and my kids love to fix it and especially enjoy eating it.
You need:
graham crackers
chocolate bars
small marshmallows
peanut butter, this is optional, some in my family like it, some don't.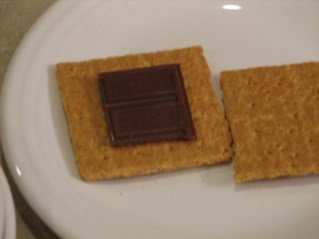 Place a square or two of chocolate on graham cracker.
Place marshmallow on top of chocolate.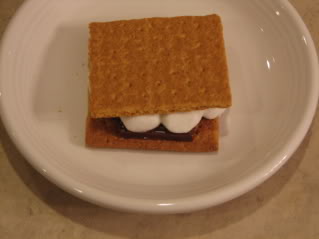 Place another graham cracker on top and cook in microwave for 20-30 seconds or until marshmallows are soft and chocolate has started to melt. This will vary with different microwaves.
Now enjoy!
If you like peanut butter, spread peanut butter on graham cracker and then place chocolate on top of peanut butter. I prefer it without the peanut butter, but my husband and kids like it with peanut butter.