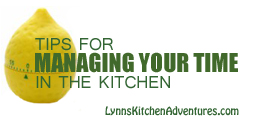 Have you ever thought about how much time you spend in the kitchen?
I cook almost every meal at home. That is 3 meals a day, 21 meals a week, 90 meals a month, and well over 1,000 meals a year. And that is not including snacks, cookies, cooking for company, and anything else you might cook.
I don't know about you, but just thinking about that makes me tired. That is a lot of time in the kitchen.
I know many of you may not cook at home as often as I do, but we are all busy and finding the time to spend in the kitchen can be a struggle.
Feeding my family healthy home cooked meals is a priority for me, however I will admit that is it not always easy. Yes, I love to cook, but there are days when I don't have a lot of time to spend in the kitchen.
I realized a long time ago that there are many things that I could do to better manage my time in the kitchen. These things not only saved me time, they made meal preparation easier.
Over the years as my schedule has changed, I have tweaked some of the things that I do, but there are things that I keep going back to because they work. They save me time and help me enjoy cooking even more.
My goal with this new series is to share some of the things that save me time in the kitchen. I hope that you can find some new ideas and inspiration that will save you time and make cooking for your family easier.