Cornbread can be served northern or southern style and this Marie Callenders Cornbread recipe is definitely more of a northern style cornbread.
Let me start by say that this is a recipe that I have been making for at least fifteen years. And it is not the exact Marie Callenders recipe, it is a Marie Callenders copycat recipe.
My husband loves cornbread. I like it too, but I like it northern style.
I did not realize that cornbread had a northern version and a southern version until I moved to Oklahoma. I had no idea that it made much difference in how it was made, but there is.
Not only is there a difference there are strong opinions on the amount of flour and sugar that belongs in cornbread.
If you are from the more southern states, I am sorry, but I like my cornbread a little lighter than those in the south.
I like a little more flour in my corn bread than cornmeal.
I also like a little sugar in it. I know, how could I! 🙂
All I can say is, I grew up in Oregon. We like our cornbread light and fluffy and a little on the sweet side. If you put a little honey on it, it is even better.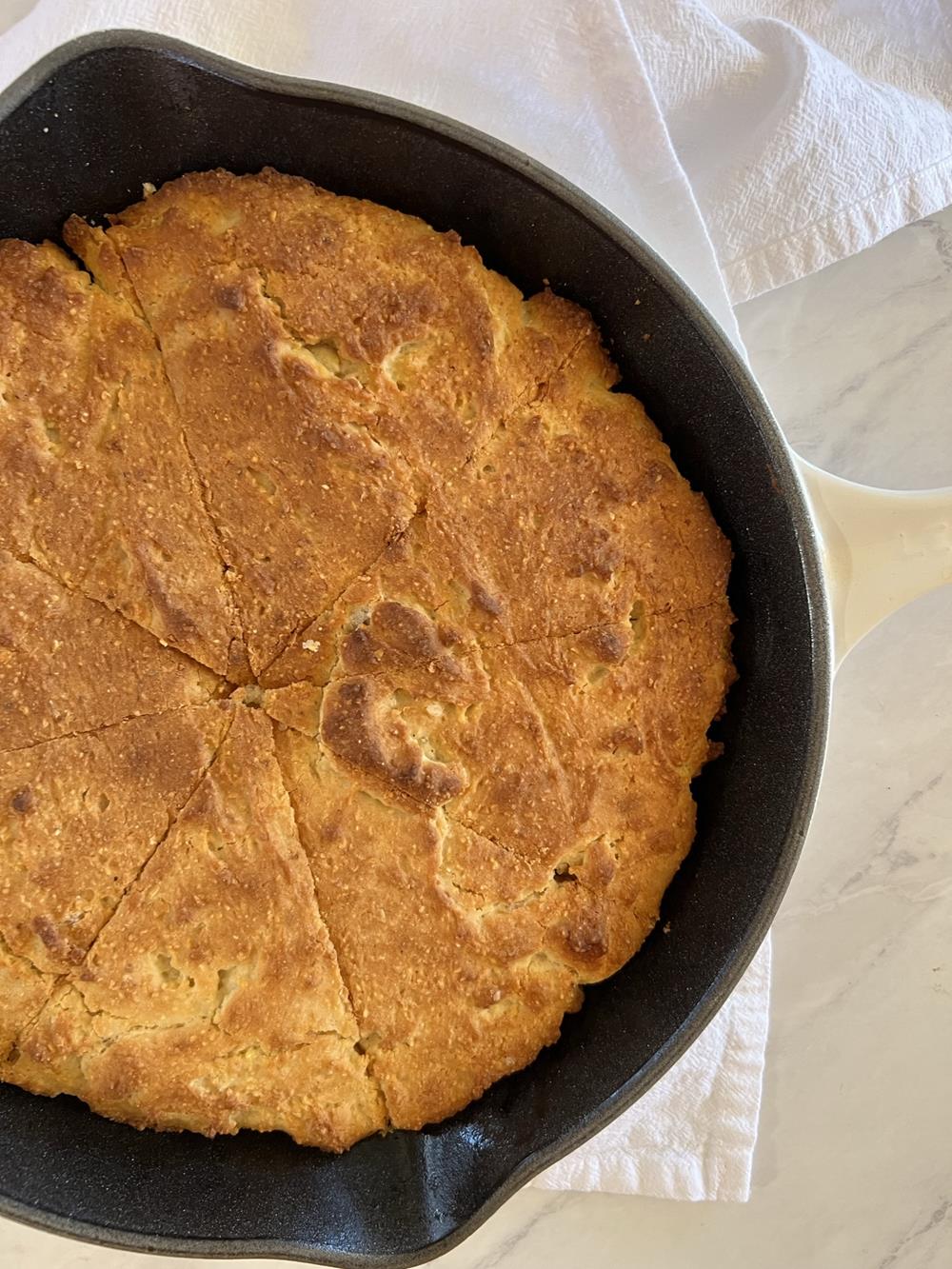 I will admit though that southern-style cornbread is pretty good. To me though it is a little dry to just eat on its own. But that is just me. I know many people who wouldn't make cornbread with sugar in it.
I have been making this recipe for years. I made it one time when my mom was a visiting year ago and now this is the only cornbread she makes.
I would consider it the best cornbread that I have made.
Is cornbread gluten free?
Cornbread is not gluten free, but it is easy to make gluten free.
First of all you need gluten free cornmeal. Cornmeal is gluten free, but is at risk for contamination because of how it is grown and processes. To be safe always use cornmeal labeled gluten free.
For this recipe you can use a gluten free flour blend in place of the flour, but I have found the best results with the individual flours. My gluten free northern style cornbread is the gluten free version of this recipe.
Tips For Making Cornbread
Don't over stir the batter. Stir just until mixed together well.
I have made this many times in a basic 8×8 pan or pie plate, but over the years I have realized the best cornbread is poured into a hot cast iron pan.
Put a little oil or even bacon grease, in a cast iron skillet.
Put it in a hot oven for at least five minutes or until pan is hot.
Carefully remove pan from oven and swirl oil around.
Pour cornbread batter into the pan. You should hear it sizzle.
Bake according to directions.
Ingredients
flour ( see notes in post about how to make this gluten free)
cornmeal
baking powder
sugar
salt
milk
shortening (yes shortening, it really does make it better.)
egg
Yield: 9 servings
Marie Callenders Cornbread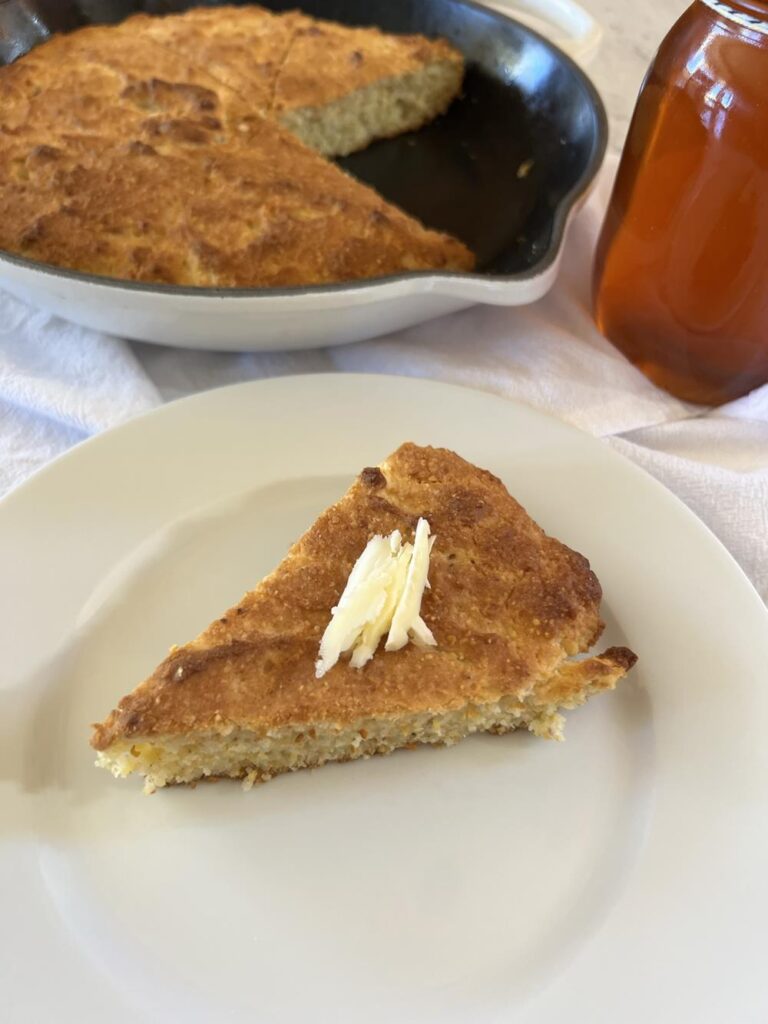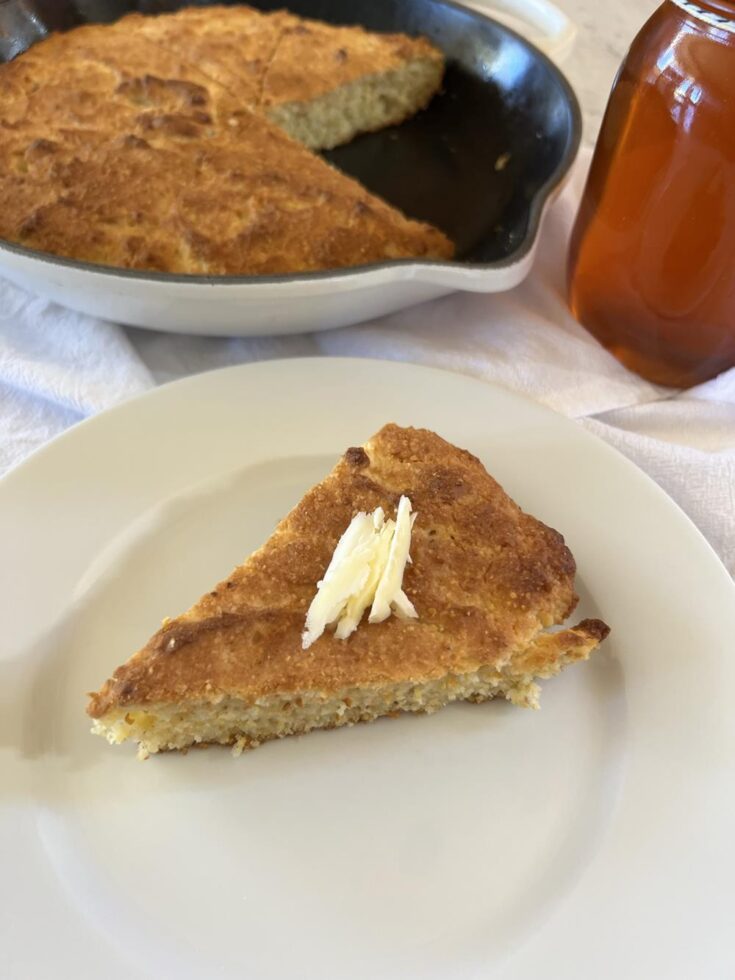 A copycat version of a favorite cornbread.
Ingredients
1 1/4 cups flour
3/4 cup cornmeal
2 teaspoons baking powder
1/3 cup sugar
3/4 teaspoon salt
1 1/4 cups milk
1/4 cup shortening
1 egg
Instructions
Preheat oven to 400 degrees F.
Combine all the dry ingredients in medium bowl.
Add the milk, shortening, and egg and mix only until all the ingredients are well combined.
Do not overmix.
Pour the batter into a greased 8x8-inch pan or a cast iron skillet. (Pouring the batter into a hot grease pan will give you the best crust.)
Bake for 25-30 minutes or until top is golden brown.
Let cool slightly before slicing.
Notes
A gluten free flour blend can be used in place of the flour in this recipe, but see notes in post about the best way to make it gluten free.
Nutrition Information:
Yield:
9
Serving Size:
1
Amount Per Serving:
Calories:

205
Total Fat:

7g
Saturated Fat:

3g
Trans Fat:

0g
Unsaturated Fat:

4g
Cholesterol:

27mg
Sodium:

312mg
Carbohydrates:

30g
Fiber:

1g
Sugar:

9g
Protein:

4g
Nutritional values are approximate and aren't always accurate.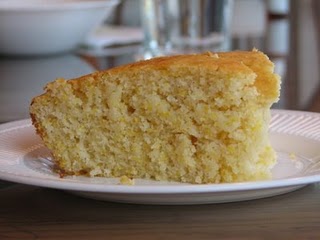 Published September 2008. Updated November 2022.