Martha Stewart's Blueberry Muffin recipe is a delicious bakery style muffin perfect for breakfast, lunch, snack, or even dessert.
These blueberry muffins are light, fluffy, and easy to make.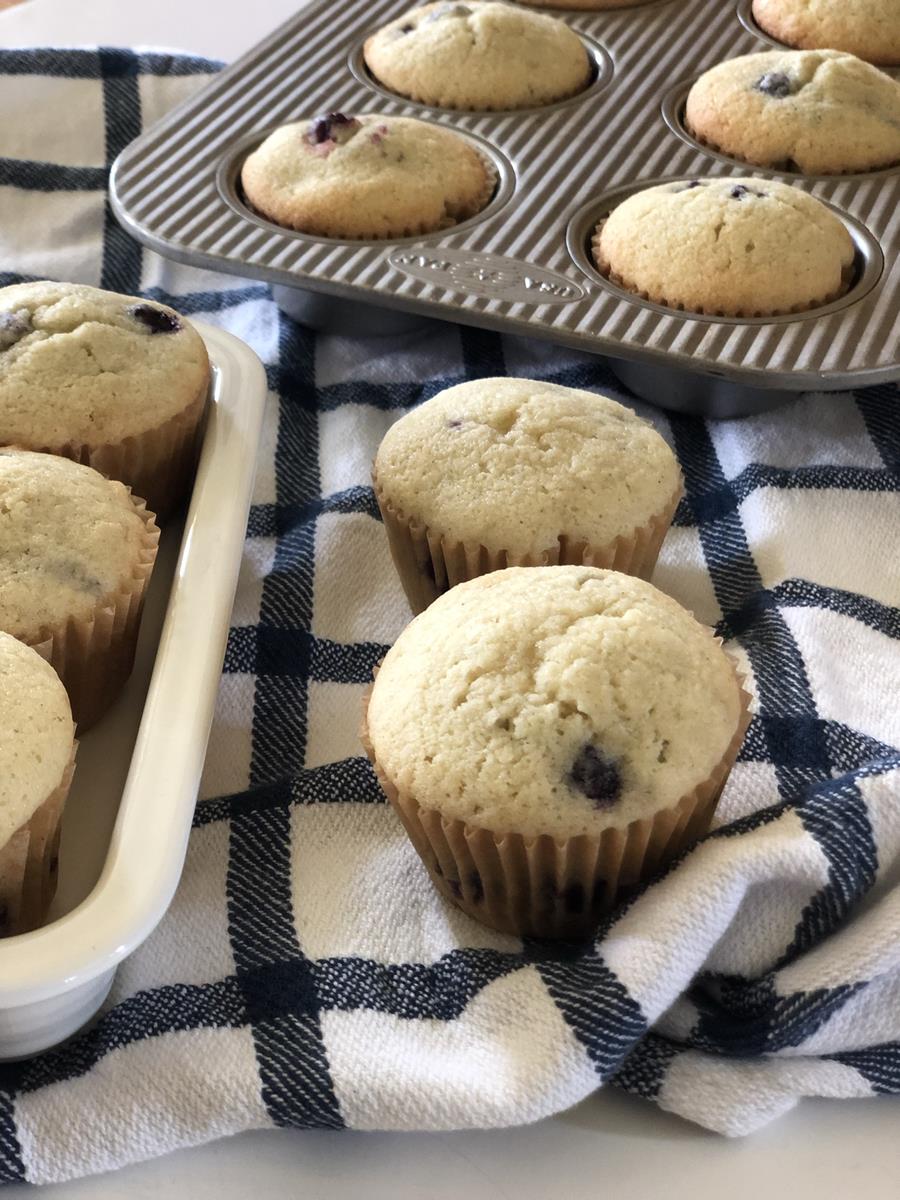 I took a few weeks off from my Martha Stewart Cooking challenge because I was visiting my family in Oregon. I am loving my year of Martha Stewart cooking challenge so I am glad to be back with a delicious blueberry muffin recipe.
This recipe is actually an old recipe that I am bringing back. I first shared Martha Stewart's Blueberry Muffin Recipe way back in July of 2009.
Twelve years later I am still making the same blueberry muffin recipe. I have adapted it slightly over the years, including a gluten free version, but it is still the same basic recipe.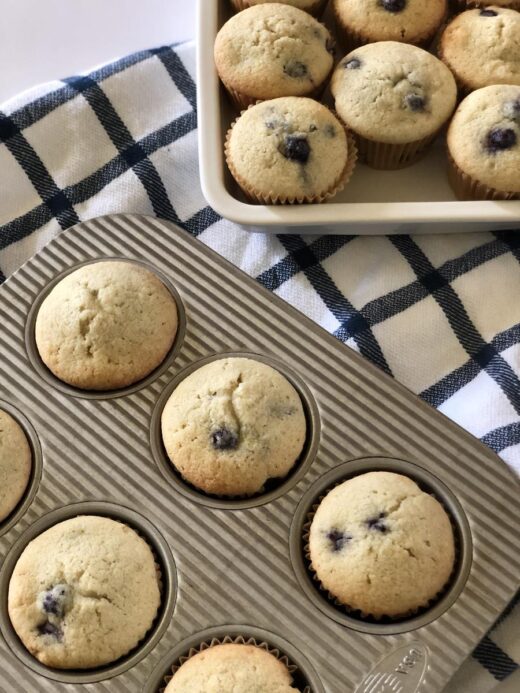 A few week's ago I shared Martha Stewart's Basic Muffin Recipe with mix-ins. That recipe is a great breakfast muffin recipe.
This Martha Stewart Blueberry Muffin Recipe though is more of a bakery style muffin. It is lighter and fluffier. It is a little sweeter and is more cake like.
Both recipes are great and have their place in your recipe box.
Martha Stewart served these with whipped cream, more like a cupcake or dessert, but we love them as is since it makes them more muffin like.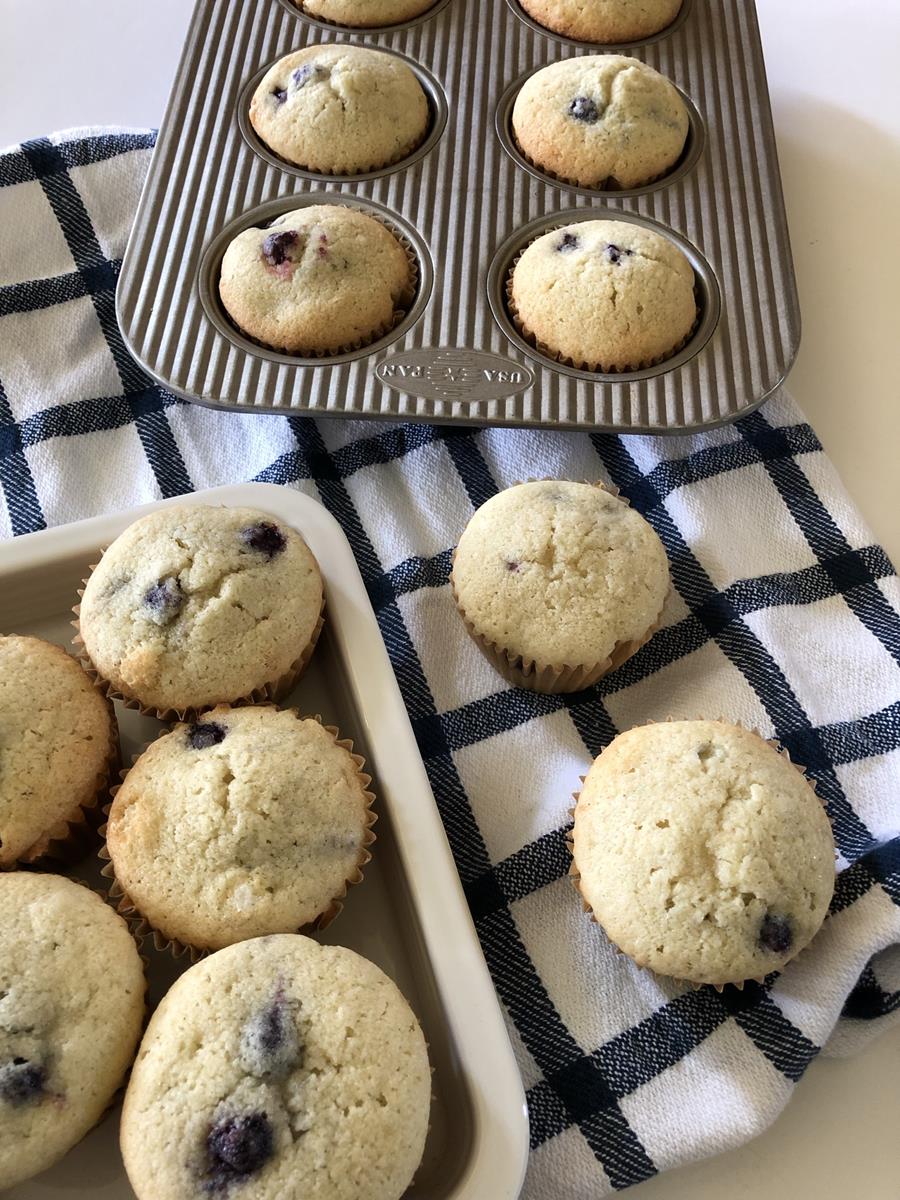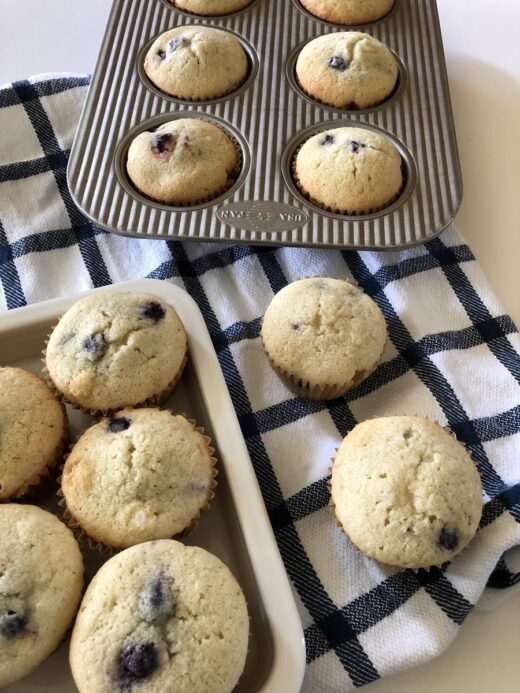 Ingredients
all purpose flour or Bob's Red Mill 1 to 1 gluten free blend
baking powder
salt
butter
granulated sugar
eggs
vanilla extract
milk
blueberries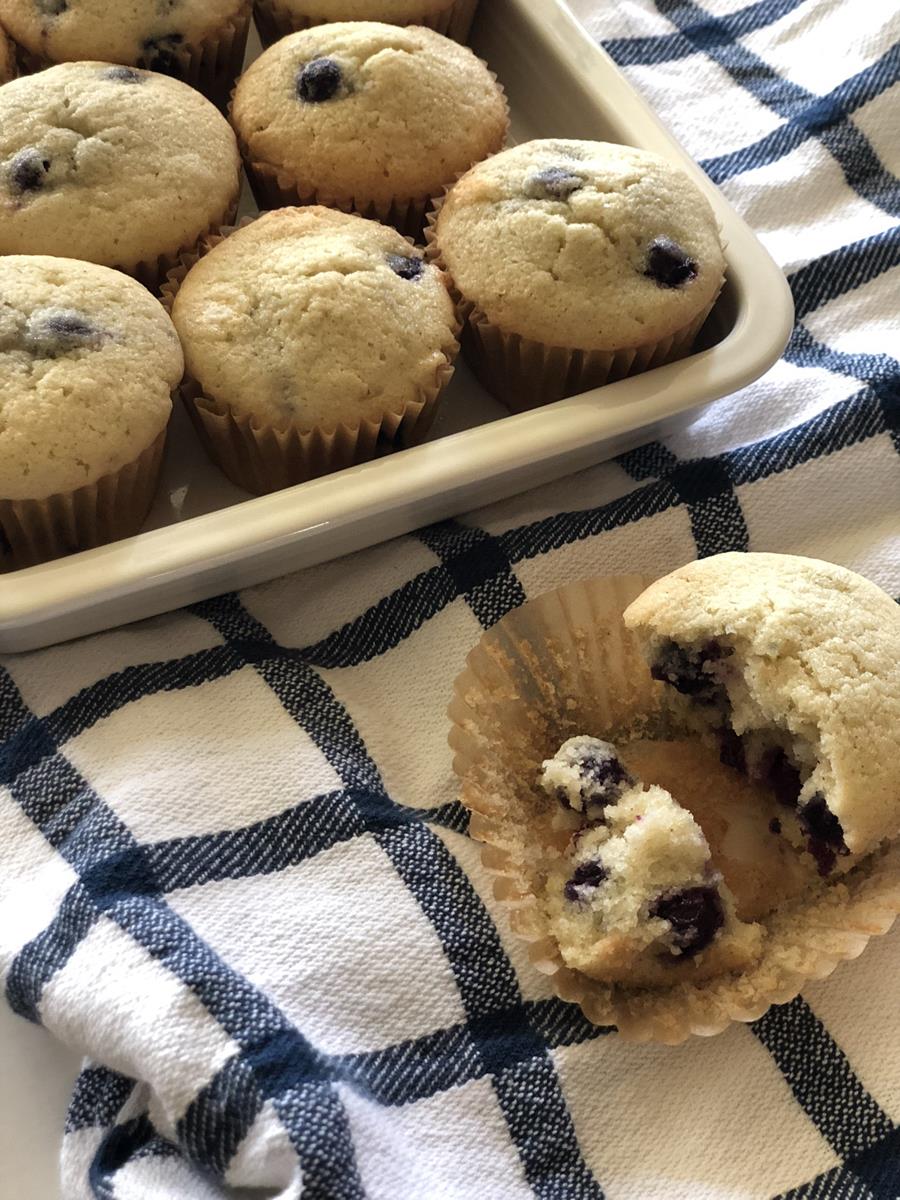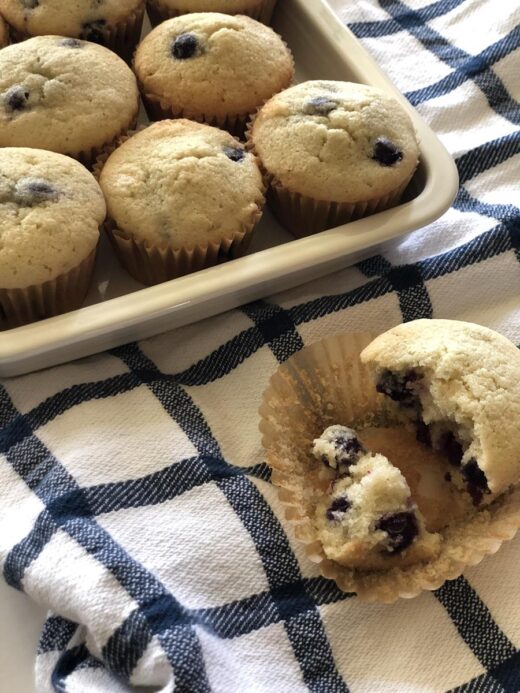 FAQS
Can I make these blueberry muffins gluten free?
Yes, these work great gluten free. I have made these with Bob's Red Mill gluten free flour 1 to 1 flour blend. Other blends may work, but I have not tested them.
Can I make this recipe dairy free?
Yes, this recipe works dairy free. The texture is slightly different, but it works fine. I like to use coconut milk beverage, but other milk alternatives will probably work too. When using a milk alternative I like to add 1 teaspoon of lemon juice.
Do I use fresh or frozen blueberries in muffins?
Both will work in this muffin recipe and in most muffin recipes.
Yield: 22 muffins
Martha Stewart's Blueberry Muffin Recipe with gluten free option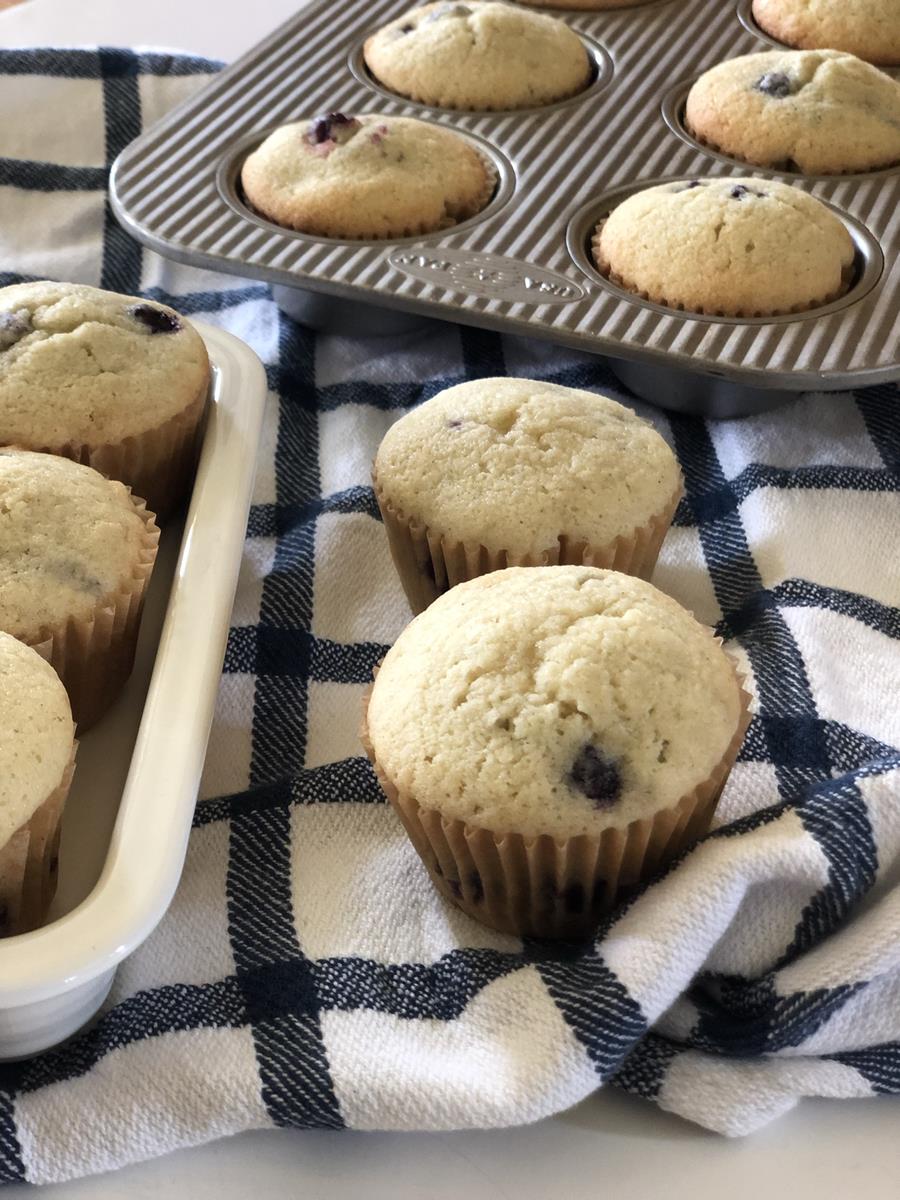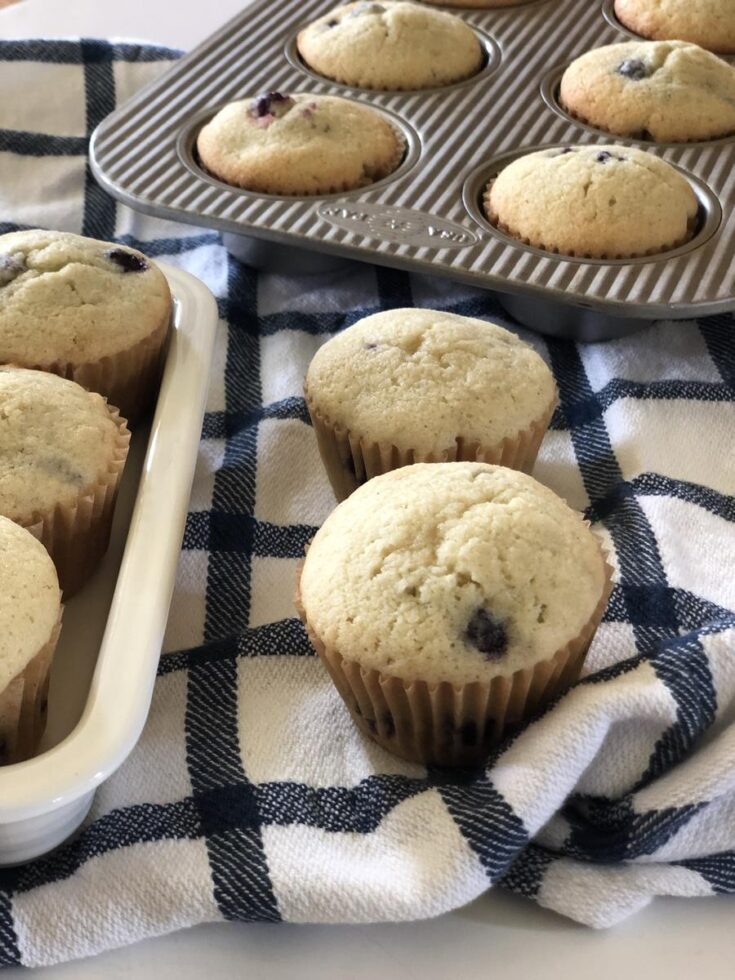 Martha Stewart's Blueberry Muffin recipe is a delicious treat with fresh blueberries in the summer or frozen blueberries all year long.
Ingredients
3 cups all-purpose flour or Bob's Red Mill 1 to 1 Gluten Free Blend for gf version
1 tablespoon baking powder
1/2 teaspoon salt
1 cup butter, room temperature
1 3/4 cups granulated sugar
4 large eggs, room temperature
2 teaspoons pure vanilla extract
1 1/4 cups milk, room temperature
2 cups blueberries, fresh or frozen
Instructions
Preheat oven to 350. Line muffin tins with paper liners or grease well.
In a bowl mix together flour, baking powder, and salt. Set aside.
Beat butter and granulated sugar with a mixer on medium speed until pale and fluffy, about 3 minutes.
Beat in eggs, one at a time, and vanilla.
Reduce speed to low, and add the flour mixture in 3 additions, alternating with the milk, beginning and ending with the flour mixture; beat until combined after each addition.
Fold in blueberries by hand.
Divide batter among cups. Bake for 20-23 minutes or until a toothpick inserted into the center comes out clean.
Let cool for 5 minutes and then remove to a cooling rack to finish cooling.
Notes
For gluten free version add 1 teaspoon of lemon juice to the milk. It will give you a better texture.
The gluten free version may work with other gluten free blends, but the recipe has only been tested with Bob's Red Mill 1 to 1 gluten free blend.
Originally posted June 2009. Updated June 2021.