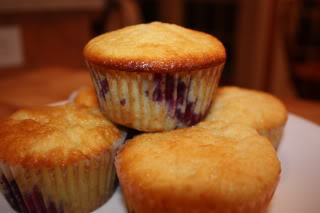 Last year I posted about a blueberry muffin recipe I made when I was visiting my sister in Oregon. It was really good, but I think I have found a better one. This one is really good. It is more cake like than muffin like. It is not necessarily a healthy muffin. This is more like a really good bakery style muffin.
This recipe is adapted from a recipe I found in Martha Stewart Cupcake Cookbook. Yes, I bought another cookbook. I could not resist. I love to make cupcakes and muffins and knew I would love this book. It is similar in style to Martha's Cookie Cookbook that I also love. Who couldn't love cookbooks about cookies or cupcakes? Both are great desserts to make. So, since I had enjoyed the cookie on so much I went ahead and bought the cupcake book. And actually for a Martha Stewart cookbook both of these books are inexpensive.
The original recipe for these muffins was called cupcakes because they had whipped cream spread on top of them like a frosting would be. I am sure that would be very good, but I like them as more of a muffin. My kids loved these for breakfast.

Blueberry Muffins
1 1/2 cups all-purpose flour
1 1/2 cups cake flour (not self-rising)
1 tablespoon baking powder
1/2 teaspoon salt
2 sticks (16 tablespoons) unsalted butter, room temperature
1 3/4 cups granulated sugar
4 large eggs, room temperature
2 teaspoons pure vanilla extract
1 1/4 cups whole milk, room temperature
2 cups blueberries
Preheat oven to 350. Line 2 standard muffin tins with paper liners. Sift together flours, baking powder, and salt.
Beat butter and granulated sugar with a mixer on medium speed until pale and fluffy, about 3 minutes. Beat in eggs, one at a time, and vanilla. Reduce speed to low, and add the flour mixture in 3 additions, alternating with the milk, beginning and ending with the flour mixture; beat until combined after each addition. Fold in blueberries by hand.
Divide batter among cups. Bake, rotating halfway through, until golden brown, about 25 minutes. Let cool.