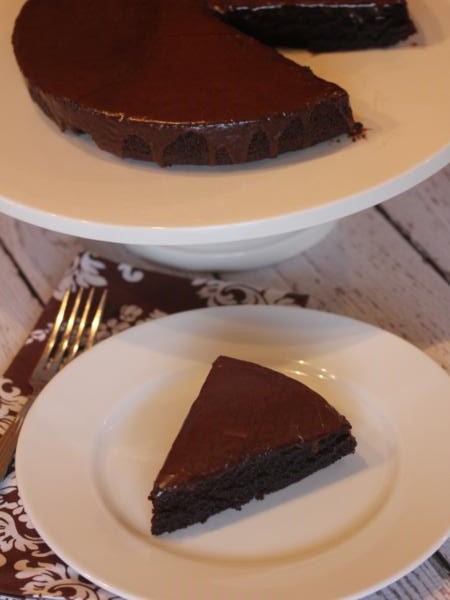 It has been a while since I shared a cake in my Martha Stewart Cakes the gluten free way series. Between a busy schedule and all the other gluten free baking I have been doing, I have not had a chance to make many gluten free cakes, but today I finally have a new one for you. And this one is delicious!
In the title you might have noticed that word lighter is in parenthesis. In the Martha Stewart's Cakes
 cookbook the recipe is called Lighter Chocolate Cake. The word lighter is what caught my attention when I was looking through the cookbook, but once I read over the recipe, I realized this is really not a light cake. Which is why the word light is in parenthesis.
Now this is lighter than some cakes, but it is not what I would consider light. This is not a rich and fudgey type cake, so it does have a lighter healthier taste to it, but I would not consider it healthy.
The main reason this is lighter is that it does not have eggs in it and the frosting is not a traditional frosting. It is also only a one layer cake, which makes the pieces smaller. Or at least smaller if you cut them normal size.
I also think this cake would be good without the frosting/glaze on it. It would be a little lighter that way.
To make this gluten free chocolate cake I used my some of my favorite gluten free flours to use in cakes. And this is one of those rare times when the cake turned out well the first time I made it gluten free. I did not have to make any other adjustments. I love it when converting to gluten free is that easy.
I also used white rice as one of the flours, but I think brown rice flour would also work fine in this as well.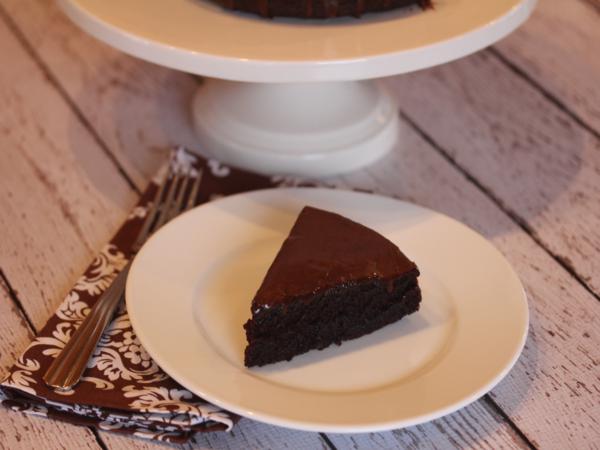 "Lighter" Gluten Free Chocolate Cake
1 cup warm water
1/2 cup baking cocoa
3/4 cup rice flour
1/2 cup sweet rice flour
1/4 cup cornstarch
1/2 teaspoon xanthan gum
1 cup sugar
3/4 teaspoon baking soda
1/2 teaspoon salt
1/2 cup oil
1 tablespoon vanilla
2 teaspoons white vinegar
Preheat oven to 375 degrees.
Grease a 9 inch cake pan. Set aside.
In a small bowl whisk together water and cocoa and set aside.
In another bowl mix together rice flour, sweet rice flour, cornstarch, xanthan gum, sugar, baking soda, and salt.
Add cocoa mixture, oil, and vanilla and whisk until smooth. Whisk in vinegar.
Pour batter into prepared cake pan.
Bake for 30-33 minutes or until toothpick inserted into the center comes out clean.
Turn cake out onto rack to cool.
For Glaze:
2 ounces gluten free chocolate
1/2 cup powdered sugar
2 tablespoons water
Whisk glaze ingredients together until smooth.
Let set for 2-3 minutes and it will thicken slightly.
Pour over cooled cake and carefully spread over cake.
This will run down the sides of the cake so make sure you have a plate or cookie sheet under it.