Martha Stewart's Tuna Salad made the perfect recipe for this week's Year of Martha Stewart Cooking Challenge.
This week I am actually bringing you two Martha Stewart recipes. This tuna salad and Martha Stewart's Tuna Melt recipe.
Martha Stewart's tuna salad recipe is quick and easy to make and it uses simple ingredients.
Tuna salad is a classic sandwich. Most of us grew up eating tuna salad sandwiches because they were easy and inexpensive to make.
Tuna often gets a bad rap and I am not sure why. Tuna sandwiches are a favorite at my house.
My son, who is the pickiest eater in the family, loves them.
Tuna sandwiches are so basic that I never follow a recipe. I just make them. However, when I realized that Martha Stewart had a recipe for tuna salad I knew I had to give it a try.
Once again I realized that proportions really do matter. The ratio of tuna to mayo to mustard matters. Martha gets it right in her tuna salad recipe.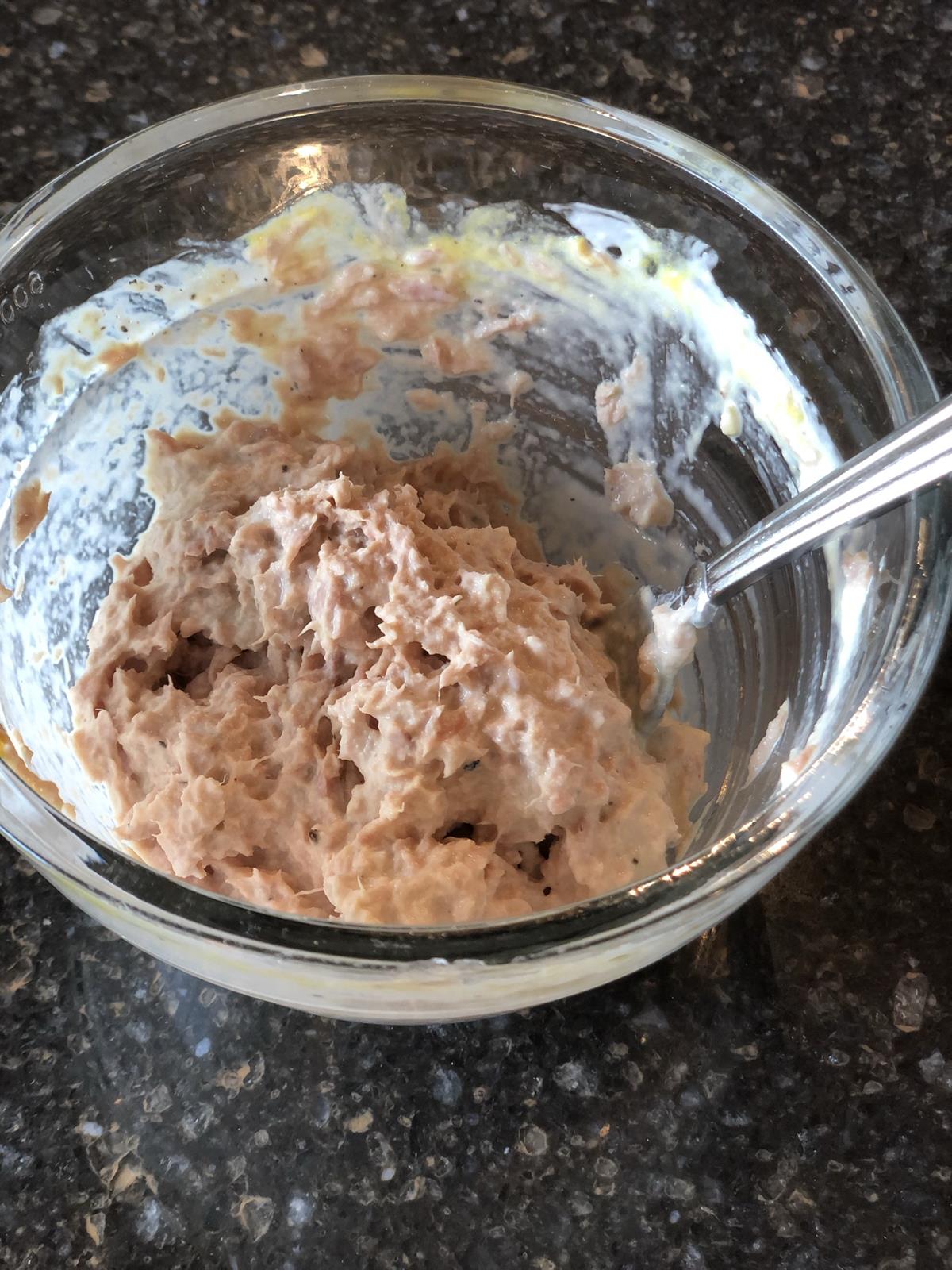 What I Changed
I changed three things on this recipe. The original recipe for Martha Stewart's Tuna Salad comes from Martha Stewart Living issue October 2000.
The original recipe had celery in it. I don't like celery. Like I hate celery.
I pick it out of things. It tastes like dirt to me. I have never liked it. And the majority of my family feels the same way. When it comes to recipes I always leave it out. Feel free to add it if you love it.
When it comes to tuna sandwiches I also prefer the tuna pouches over canned tuna. Either one works, but the texture is slightly different. I keep both on hand, but for sandwiches, I usually use the pouch of tuna instead of the can. Use whatever one that you like or have on hand.
I also left out the lemon zest. I didn't think my son would like the zest added so I left it out.
Be sure to check out how I made this into Martha Stewart's Tuna Melt. According to my son, it makes it even better.
Are there eggs in tuna sandwiches?
My husband grew up eating eggs in his tuna sandwiches. It was like egg salad with tuna mixed it.
I grew up eating tuna sandwiches and egg salad sandwiches, but never combined. When I moved to Oklahoma I realized that a lot of people ate them like my husband did with boiled eggs added. I think it must be a southern food thing to eat it with eggs.
I prefer mine tuna sandwiches without eggs, so I was thrilled to see that Martha Stewart didn't put eggs in hers either.
How do you eat tuna sandwiches? Do you eat them with or without eggs?
Ingredients
tuna, canned or pouch
mayonnaise
Dijon mustard
lemon juice
salt
pepper
celery, optional
lemon zest, optional
Yield: 2 sandwiches
Martha Stewart's Tuna Salad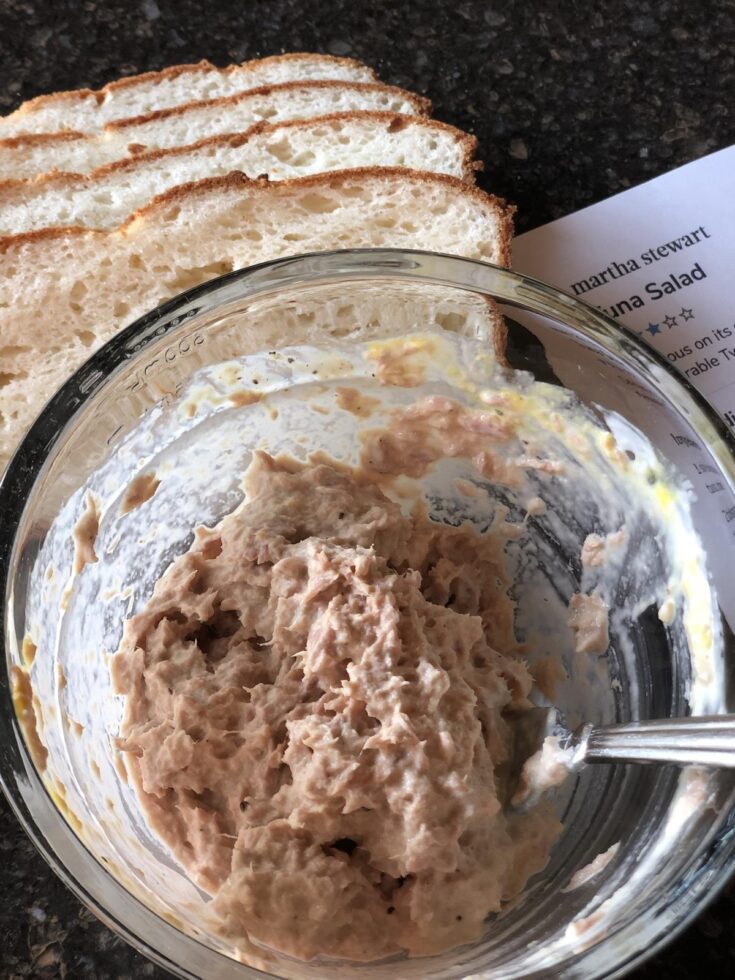 An easy recipe for a classic sandwich.
Ingredients
6 ounce can tuna (or pouch of tuna ) drained
2 tablespoons mayonnaise
1 teaspoon Dijon mustard
1 teaspoon lemom juice
salt and pepper to taste
optional - 2 tablespoons celery, chopped
optional - 1 teaspoon lemon zest
4 slices of bread for serving or gluten free bread
Instructions
In a bowl combine tuna, mayonnaise, mustard, lemon juice, salt, and pepper. ( Also add celery and lemon zest if using. )
Mix well using a fork.
Spread on bread or store in the refrigerator until ready to make sandwiches.
Nutrition Information:
Yield:
2
Serving Size:
1
Amount Per Serving:
Calories:

264
Total Fat:

12g
Saturated Fat:

2g
Trans Fat:

0g
Unsaturated Fat:

10g
Cholesterol:

6mg
Sodium:

617mg
Carbohydrates:

32g
Fiber:

2g
Sugar:

4g
Protein:

6g
Nutritional values are approximate and aren't always accurate.