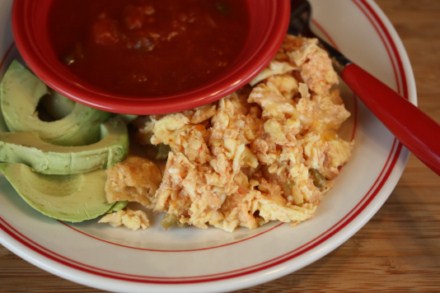 I have seen several recipes and variations of a tex-mex breakfast called migas that looked interesting to me. I thought my family would enjoy it for breakfast. It is basically eggs, tomatoes, cheese, and tortillas.
Every recipe I saw was quite a bit different. Some had just tomatoes, some had a homemade type salsa, and some had neither. Most called for corn tortillas that you fried to make them crispy and then added to the eggs. But I also found a few that called for tortilla chips. Some had cheese, some did not. You get the idea. All the recipes varied a lot.
I decided to come up with my own version, based on some of the ones that I saw. Really, I just looked at what I like about each one and made it work for my family. I am sure this would be good if you fried corn tortillas and used them. But I did not want to take the time to do that because I like quick and easy breakfast dishes. I am sure this is not authentic, but we like it a lot. It is fast becoming a new favorite for breakfast in my family. But this would also make a very frugal lunch or dinner.
This is just basic measurements. I don't really measure it exactly, so you can adjust it to your family tastes.
Migas
8 eggs, beat well
¼ cup salsa
½ cup cheese, shredded (I use either cheddar, jack, or combo)
1 cup tortilla chips, crushed (I use like 2 handfuls of chips, not sure what that measures exactly)
Cooked eggs until almost done (you are basically scrambling them). Then add remaining ingredients. Cook another minute or so until eggs are done. Serve with additional salsa if desired.