My ten year old daughter made me this for Mother's Day.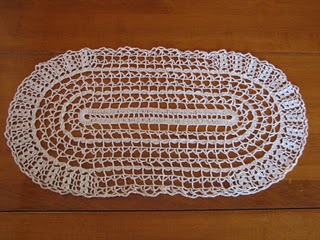 She made this all by herself. I LOVE it. It was so sweet of her. She learned to crochet when she was eight years old. And has been making doilies ever since. She prefers to work with small threads and hooks, so doilies are something she loves to do. She made one just like this and sold it. I liked it so much she made me one. She has made a lot of doilies in the last two years. She has sold some, given several as gifts to her grandmothers and even given a few as wedding gifts. I hope to set up an Etsy Shop for her once she gets a few stockpiled. She seems to sell them as fast as she makes them.
I am so glad she had this talent. I wish I had taken the time to learn things like this when I was her age. My grandmother could craft just about anything. She crocheted, knitted, quilted, worked with dried flowers, did pottery, sewing, painting, and more. She taught me a few things like knitting and crocheting but I did not really have any interest in it. I only learned the basics. Oh, how I wish I could go back and spend hours learning all my grandmother had to teach me. I am so thankful my daughter is learning this dying art form. So few young people have an interest in learning these things.
Two years ago a lady in our church offered to teach some of the younger girls in the church how to crochet. I decided that my daughter should give it a try. I never really expected her to like it or stick it out. She took to it right away. Within a couple of months she had done her first doilie. We knew she had found a talent. She will sit and crochet for hours sometimes. It is amazing. She wants to give knitting a try next and then sewing. I think if she can tackle a project like this at age ten she will do well in any other craft project she tries.