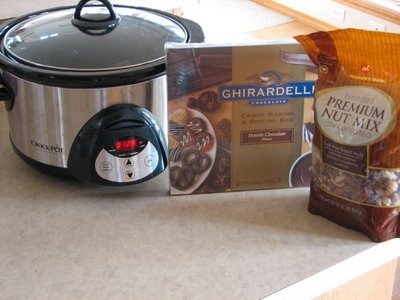 This is one of the easiest things I make for our office party, but it is usually one of the most popular. Here is what I do.
I take some chocolate and melt it in the crockpot. This is the easiest way to melt chocolate. You do have to watch it and stir it every once in a while but it works great.
Place the chocolate in the crockpot on low. Stir and check every 10-20 minutes. When melted stir in nuts. You can use peanuts, mixed nuts, or what ever kind of nuts you like. Drop by spoonfuls onto a cookie sheet lined with waxed paper (I use my silpat). Refrigerate until firm.
See, they are so easy and so good. My one suggestion is to use good chocolate. That is what makes them so good. You can also use white chocolate for this but we prefer regular chocolate.