Note: This post is sponsored by Vitacost but all thoughts and opinions are my own. 
Starting the day with a good breakfast is important, especially for kids. And the best way to start the day is with a healthy and filling breakfast. These oatmeal honey breakfast muffins that I am sharing today are perfect for just that.
I was recently contacted by Vitacost about developing a recipe using some of their products. I have posted before about how much I like Vitacost, especially for gluten free items, so this was an easy challenge to say yes to.
My box of products arrived last week and I had so much fun working with the products over the weekend. They sent me several new things that I had never used before like coconut sugar and cacoa nibs.
I received two kinds of cacoa nibs. The regular ones I used in the muffin recipe I am sharing today. The other one was chocolate covered cacoa nibs and I think they are my new favorite snack. My son and I both love dark chocolate and we both loved the chocolate covered cacoa nibs. I think they would be great in some homemade trail mix.
When I was thinking about a recipe using Vitacost products breakfast instantly came to mind. Last week I shared a recipe that my daughter made by changing up one of my recipes. Well today I am using her basic idea but have changed it up quite a bit using the products Vitacost sent me.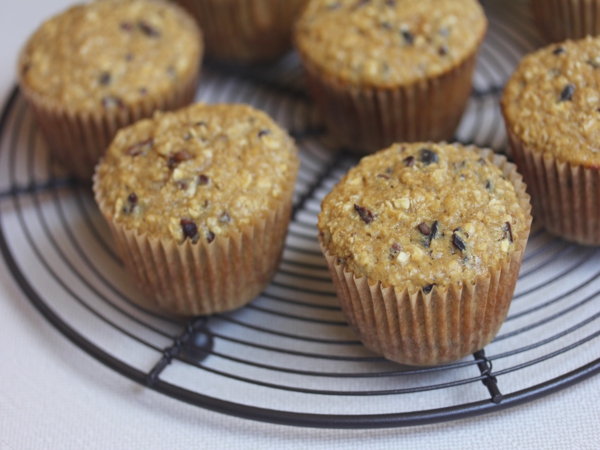 I used the coconut sugar in place of the brown sugar. It worked great in the recipe and gave it a little different flavor than brown sugar that I enjoyed. I think either one works fine in the recipe.
I also added some honey to the recipe. I love honey. I love the flavor and the fact that it is a natural sugar. I can eat honey by the spoonful and love the flavor it adds to recipes like this.
And for the add ins to the recipe I made some with cacoa nibs, but really raisins or other dried fruit would work as well. The cacoa nibs gave the muffins a nice chocolate taste without adding sweetness to it, which I enjoyed. It made them more of a healthier muffin than adding chocolate chips.
Oatmeal Honey Breakfast Muffins
Makes about 15 muffins
3 cups quick cooking oats, I use gluten free quick oats
1/3 cup coconut sugar or brown sugar
1 1/2 cups milk
2 tablespoons coconut oil, melted or softened
2 eggs
2 teaspoons baking powder
3/4 teaspoon salt
1/3 cup honey
1/3 cup cacoa nibs or 3/4 cup dried fruit, raisins, craisins, etc.
Preheat oven to 350 degrees.
Line muffin tin with liners or grease well.
In a large bowl combine all ingredients but the cacoa nibs/dried fruit.
Stir until well combined. Stir in cacoa nibs or dried fruit.
Scoop batter into muffins cups, filling 3/4 full.
Bake for 15-17 minutes.
Serve warm.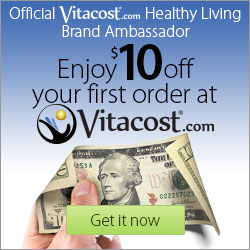 And if you have never ordered from Vitacost you can now get $10 off your first order of $30 or more. This is a great way to give them a try. Just click on the Vitacost image above for details.
Disclaimer: This post is sponsored by Vitacost. I was sent free products to try and was compensated for my time in writing this post. This post also contains Vitacost affiliate links.