Do you have some leftover oatmeal that needs used up? These Leftover Oatmeal Muffins are a delicious way to use up leftover oatmeal.

My mom can make food stretch to feed more people than anyone I know. She hates food waste and has always been creative in using up leftovers.
Her cooking has never been fancy, but it has always been frugal and creative.
This muffin recipe is one of the ways that she got creative when I was growing up. She got this recipe from a friend over forty years ago and has been making them every since then.
If you ask my sisters and I what muffin we remember my mom making the most when we were growing up this Leftover Oatmeal Muffin would be it.
We actually called them Yucky Oatmeal Muffins because she made them using the yucky leftover oatmeal.
Often times when you make oatmeal there is a little bit leftover in the pan that no one eats. Most people just throw it out. Not my mom. She would save that oatmeal and make muffins out of it.
I first shared this recipe way back in March of 2008. That was my first year of blogging, so the recipe was buried in my archives.
Right now we are all trying to make delicious food for our family's using basic ingredients that we have on hand or that we can easily get.
These muffins are exactly that. They are a simple recipe using ingredients that you probably have on hand.
They texture is slightly different than a regular muffin. Leftover oatmeal muffins are not light and fluffy. They are slightly dense and chewier. They are kind of a cross between a muffin and baked oatmeal.
Do I have to use leftover oatmeal to make these?
I will admit that my family loves baked oatmeal, but not a big fan of a bowl of regular oatmeal. So I don't use leftover oatmeal for these. I usually just make up some oatmeal, let it cool, and refrigerate the oatmeal for a day or two until I am ready to make the muffins.
I have tried this with fresh oatmeal, but there is something about letting the oatmeal set overnight or at least for quite a few hours that gives it a different texture. That texture is what makes these muffins so good, so if possible use leftover oatmeal or oatmeal made the day before.
My moms always says this recipe is forgiving. If you don't have three cups of leftover oatmeal, two cups will work fine. If you have four cups of leftover oatmeal that will work too.
These are not a fancy muffin, but they are a great way to use up leftover oatmeal. They also work gluten free by using gluten free oats and a gluten free flour blend.
What do I need to make Leftover Oatmeal Muffins?
leftover oatmeal
flour or gluten free flour blend
eggs
sugar
baking soda
chocolate chips or raisins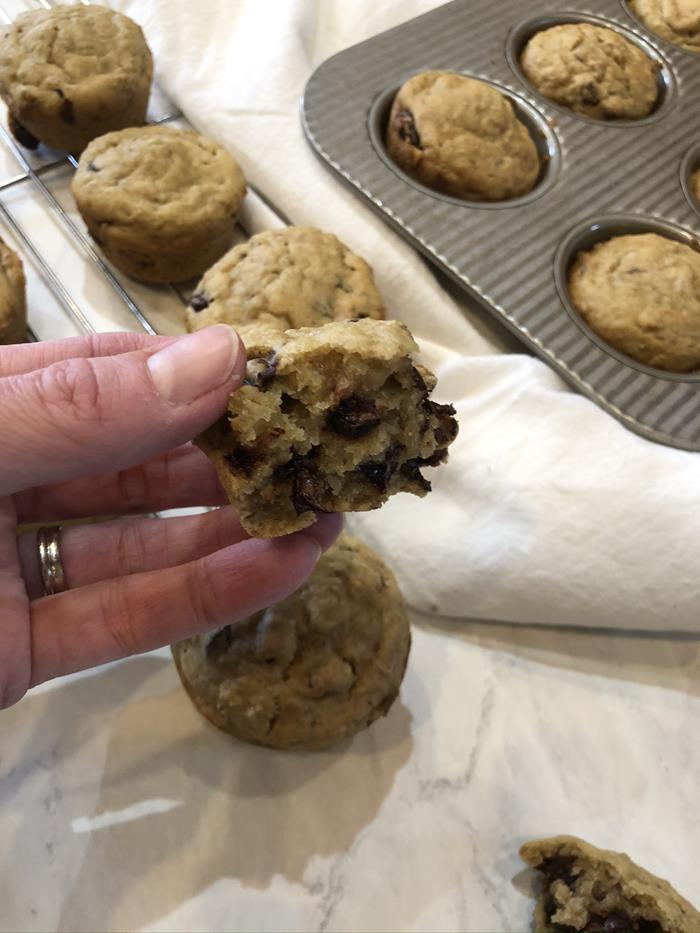 Yield: 18 muffins
Leftover Oatmeal Muffins
An easy and delicious way to use up leftover oatmeal.
Ingredients
3 cups cooked oatmeal, old fashioned oats work the best, if gluten free use gluten free oats
2 eggs
1 cup sugar
1 cup brown sugar
1 teaspoon baking soda
1 1/2 cups flour, Bob's Red Mill 1 to 1 gluten free blend works for a gluten free version
1 cup raisins or chocolate chips
1 tsp cinnamon (if you use raisins)
Instructions
In a large bowl mix all ingredients together. This really is a forgiving recipe and it doesn't matter the order that you put the ingredients in, just place them all in a large bowl.
Stir until well combined.
Scoop batter into greased a greased muffin pan filling each muffin cup 3/4 full.
Bake at 375 degrees for 18-20 minutes.
Serve warm, cold, or reheat to serve.
Notes
To make gluten free leftover oatmeal muffins use gluten free oats and a gluten free flour blend.
You can make these with raisins, chocolate chips, or other dried fruit.
Nutrition Information:
Yield:
18 muffins
Serving Size:
1 muffin
Amount Per Serving:
Calories:

209
Total Fat:

2g
Saturated Fat:

1g
Trans Fat:

0g
Unsaturated Fat:

1g
Cholesterol:

21mg
Sodium:

84mg
Carbohydrates:

45g
Fiber:

2g
Sugar:

28g
Protein:

4g
Originally posted March 2008. Updated April 2020.