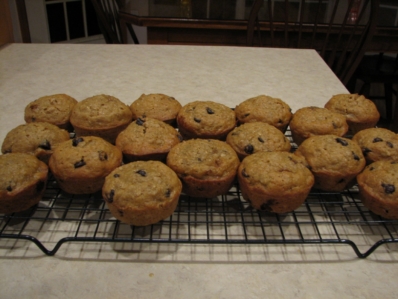 My mom used to make these muffins all the time when I was growing up.
They are not a fancy muffin but good. It is a great way to use up leftover oatmeal if you have some or you can make some just for the recipe. They are also fast and easy to make.

Leftover Oatmeal Muffins
3 cups cooked oatmeal
2 eggs
1 cup sugar
1 cup brown sugar
1 teaspoon baking soda
1 1/2 cups flour
1 cup raisins or chocolate chips
1 tsp cinnamon (if you use raisins)
Mix all ingredients together. Mix well. Place batter in greased muffin tin. Bake at 375 degrees for 18-20 minutes. Makes about 18 muffins.