Instagram is where I share a little look into my life that I don't share here on my site. The fun stuff. The stuff I don't have time to post here. Basically it is a little look into the behind the scenes part of my life.
I know many of you are not on Instagram, so posts like today's post are a fun way to show you a look at my everyday life. If you are on Instagram be sure to follow me.
I put the caption that I shared on Instagram when I posted the picture and I added some updated information and explanation on a few of them.
1. Well this gluten free cake did not quite work like I wanted. Now to figure out what went wrong. I see a keeping it real post coming soon about this cooking disaster….. (Here is the post I did on this disaster.)
2. I invited Mommy Hates Cooking and Food Allergy Eats for lunch tomorrow. When you invite 2 food bloggers for lunch there will probably be lots of butter and sugar involved. 🙂
3. A break from school to make banana muffins. Hands on life skills in the middle of your day. One of the many reasons I love homeschooling.
4. Homemade gf banana doughnuts made by my 13 year old. Delicious! (I shared the recipe here for the gluten free banana doughnuts)
5. My planner has not been working at all for me this year. So I finally gave up, yes in October, and put together my own 15 month planner. Had it bound today and can't wait to start using it.
6. Making granola at 9:30 at night. That is what you all are doing right?! 😉 life with nut allergies….. Homemade is the only way to go.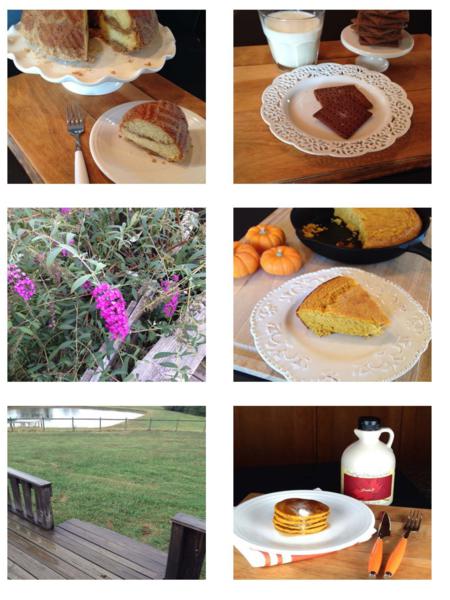 1. Gluten Free Cinnamon Coffee Cake
2. I love it when a gluten free version turns out better than I expected it would. Third gf conversion recipe to work this week!! (I shared the recipe for homemade gluten free chocolate graham crackers here.)
3. Enjoying these while I can. I am guessing they are almost done for the year.
4. When you invite two bloggers for lunch you won't have to explain why something has been cut into before you serve it. They will totally get it. 🙂 Can't wait for lunch. @foodallergyeats @momhatescooking
5. Loving this rainy fall day!
6. Gluten free IHOP style pumpkin pancakes on the site today. Yum!!
1. Training my new VA today. She loves cooking, Pinterest, photography, computers, and keeps asking me tons and tons of questions. How could I not hire her?! 🙂
2. Beautiful Oklahoma sunrise this morning!
3. Bought my daughter a new allergy alert bracelet for her birthday. She is a teen after all and likes variety. I highly recommend these if you deal with severe food allergies. A post coming soon on this subject. Not sponsored at all by the way just a cause I think is important.
4. Who says gluten free can't be good?! Delicious!! Recipe coming soon. #glutenfree
5. Not exactly what I had in mind for new living room decor. 🙂 ( The story behind these is that OK has a few days in October for youth hunting. You have to be between a certain age to hunt. That is the result of youth hunting days for my family. My son got one and my 15 year old daughter the other. My husband has always told them we would mount their first bucks. So now we get to find a place for them…… I think their bedrooms may be the perfect place. 😉 )
6. A cold foggy fall morning and I am loving it. Love fall!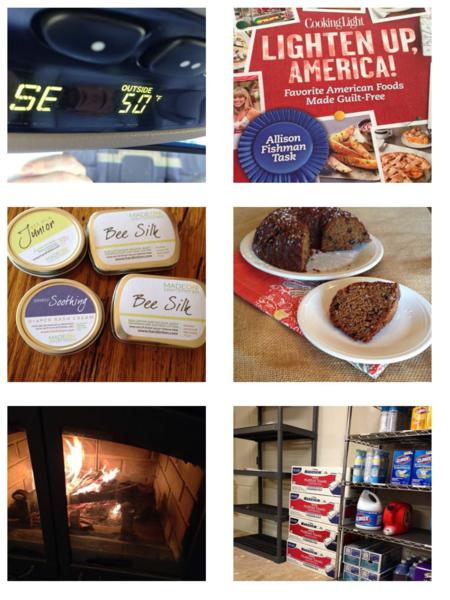 1. And this is why fall is my favorite time of year in Oklahoma.
2. My afternoon reading from @cookinglight because you can never have too many cookbooks 🙂 (Thanks for the cookbook Cooking Light. I love it.)
3. So excited to get this in the mail today. We love this stuff! ( Post coming soon on Made On Lotion)
4. It may not be the prettiest cake I have made but it is so good! And it is #glutenfree I will share the recipe soon for my gluten free cake series.
5. First fire of the year and a good book make for a great Saturday evening.
6. My kids are all at piano lessons this morning so I found a quiet place at my husbands office to catch up on blog work. Yes it is upstairs in the supply closet area, but it is quiet and has free WiFi. Oh the life of a blogger. 🙂