Have you ever heard of Oklahoma Cowboy Caviar? It is basically my version of the popular Cowboy Caviar.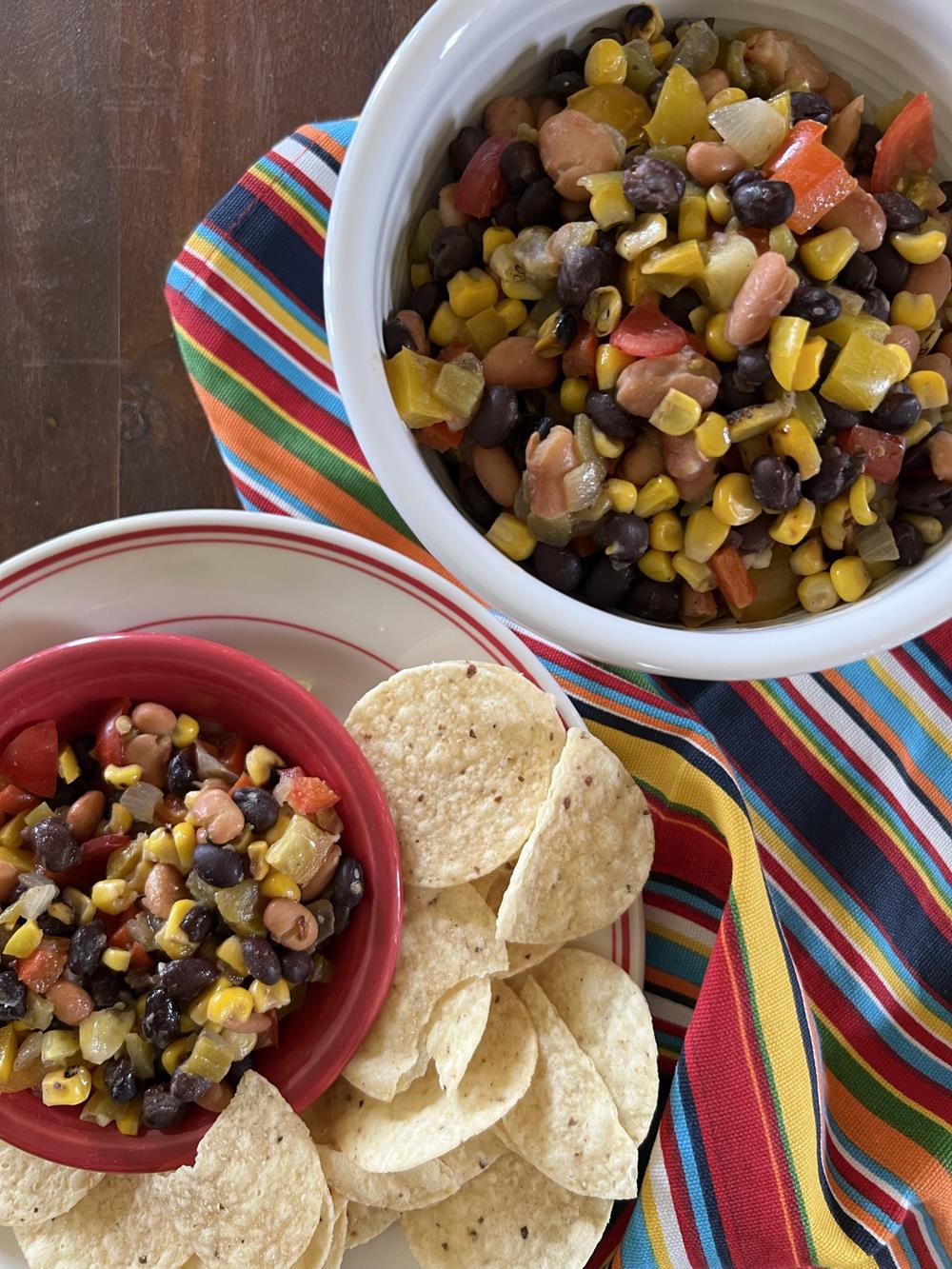 Some of my best and most popular recipes are the ones that I came up with based on the ingredients that I had on hand and that my family liked.
My version of Cowboy Caviar is exactly that. It is my version of Cowboy Caviar that I came up with using the ingredients that I had and that we like.
I call this Oklahoma Caviar because I live in Oklahoma and it is different than other versions of Cowboy Caviar that I have seen.
After seeing my friend's recipe for Santa Barbara Caviar I thought it would be fun to name mine after where I live.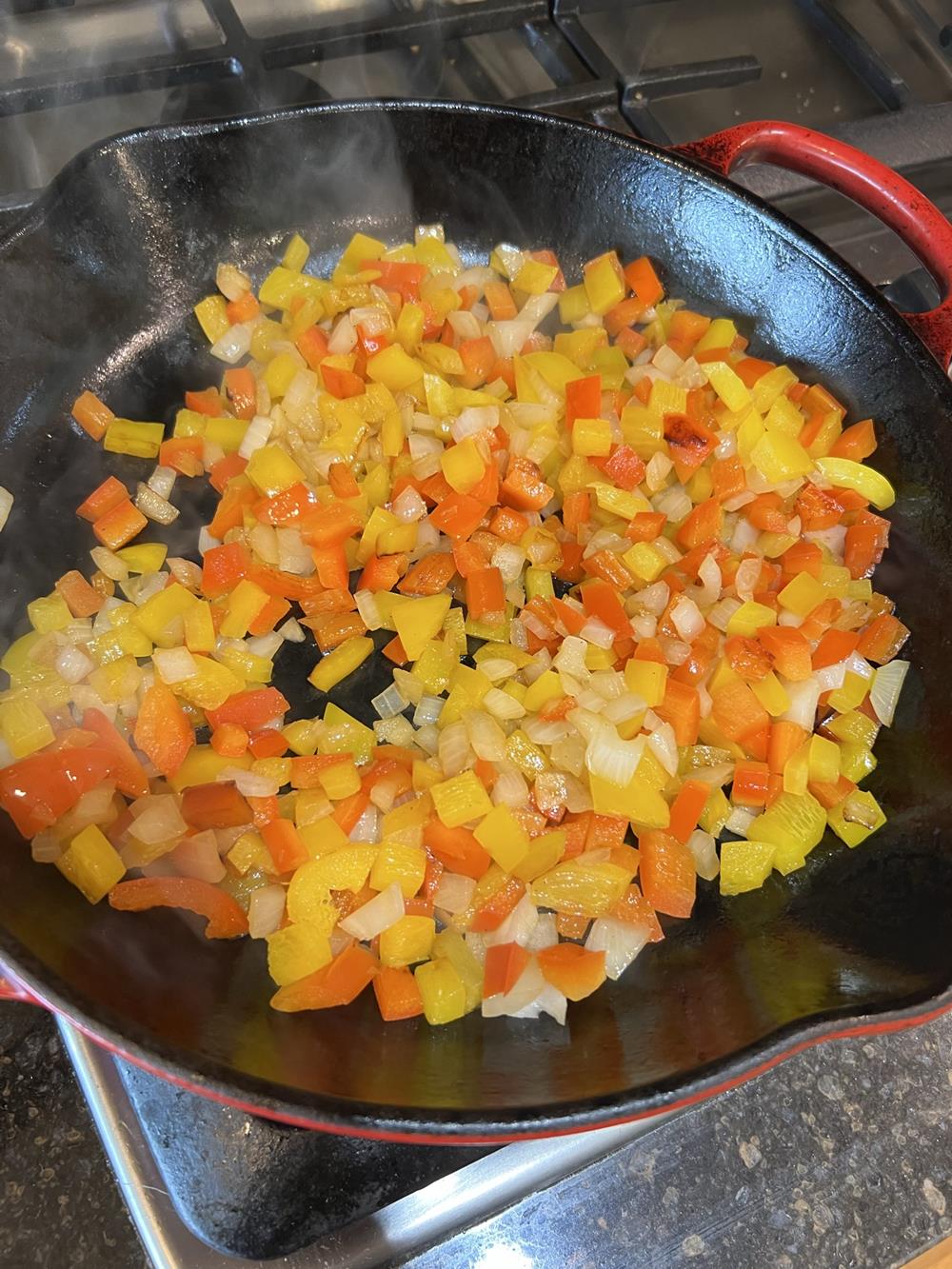 What Makes My Version of Cowboy Caviar Different?
Black Eyed Peas. My recipe doesn't contain black eyed peas. Most of the recipes for Cowboy Caviar that I have seen contain black eyed peas. I don't like black eyed peas, so I changed it up and used pinto beans. In my opinion, pinto beans make it better.
Cooked Vegetables. I also cook the onions and peppers in mine. I don't love raw peppers and onions, so I cooked them just enough to make them tender. If you like raw peppers and onions feel free to leave them raw.
Tomatoes. My version has tomatoes. Some of the versions that I have seen have tomatoes, but most do not. We like tomatoes so I add tomatoes to mine.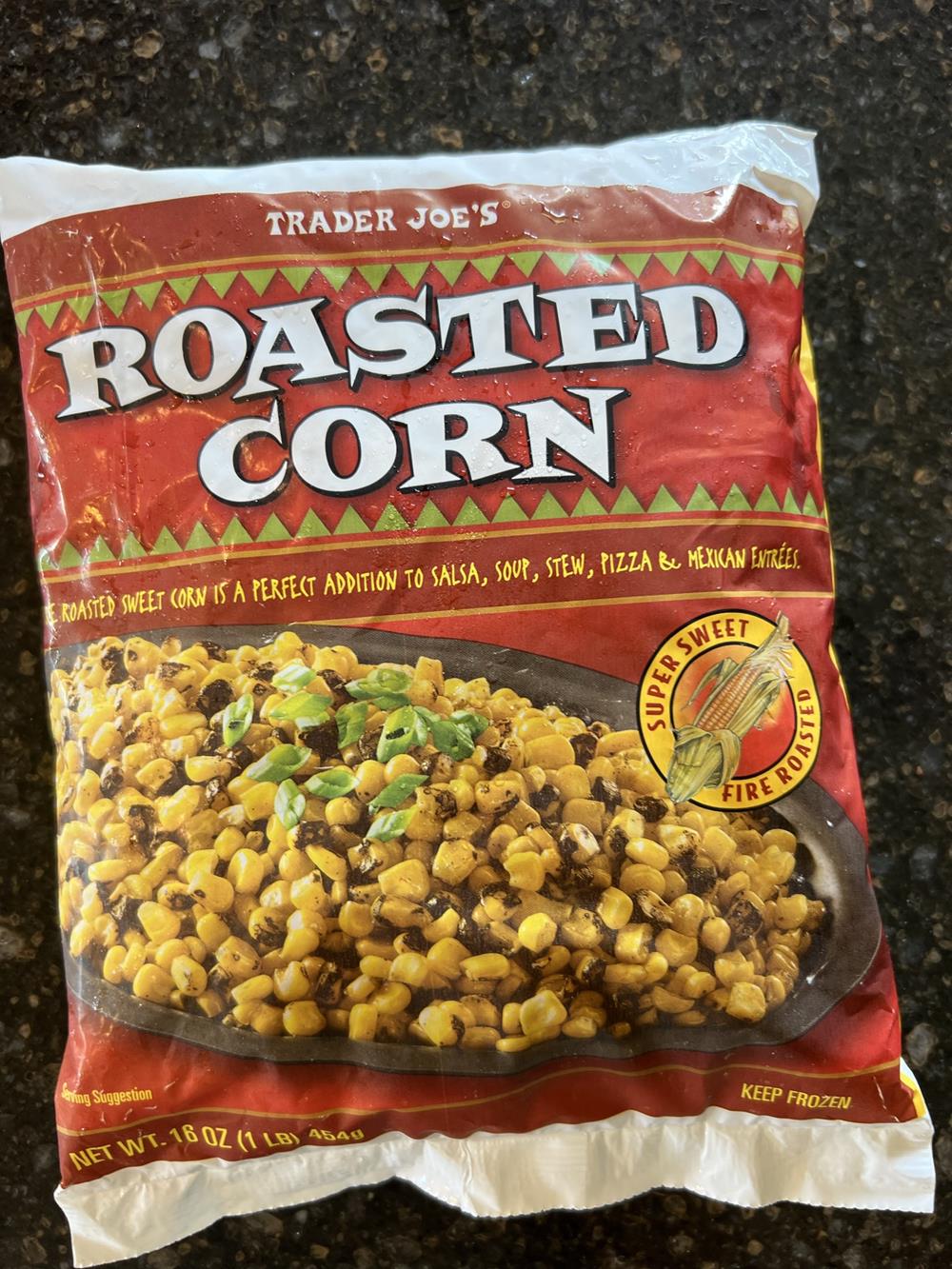 Roasted Corn. To add a little extra flavor I use roasted corn instead of just basic corn.
Dressing. I also don't use a dressing in mine. Most of the recipes that I have seen all have a vinegar oil dressing. I skipped that and just used lime juice and it works great!
How To Serve Cowboy Caviar
Chips. This is great with chips, especially tortilla chips, but I love to serve the leftover in all kinds of ways.
Heat with Cheese. I love to heat up the leftovers with a little bit of shredded cheese. You can eat it with chips this way or as a burrito or quesadilla filling.
Hamburger Topping. I recently ate this on top of a bunless hamburger and loved it. It was a great way to change up your basic burger.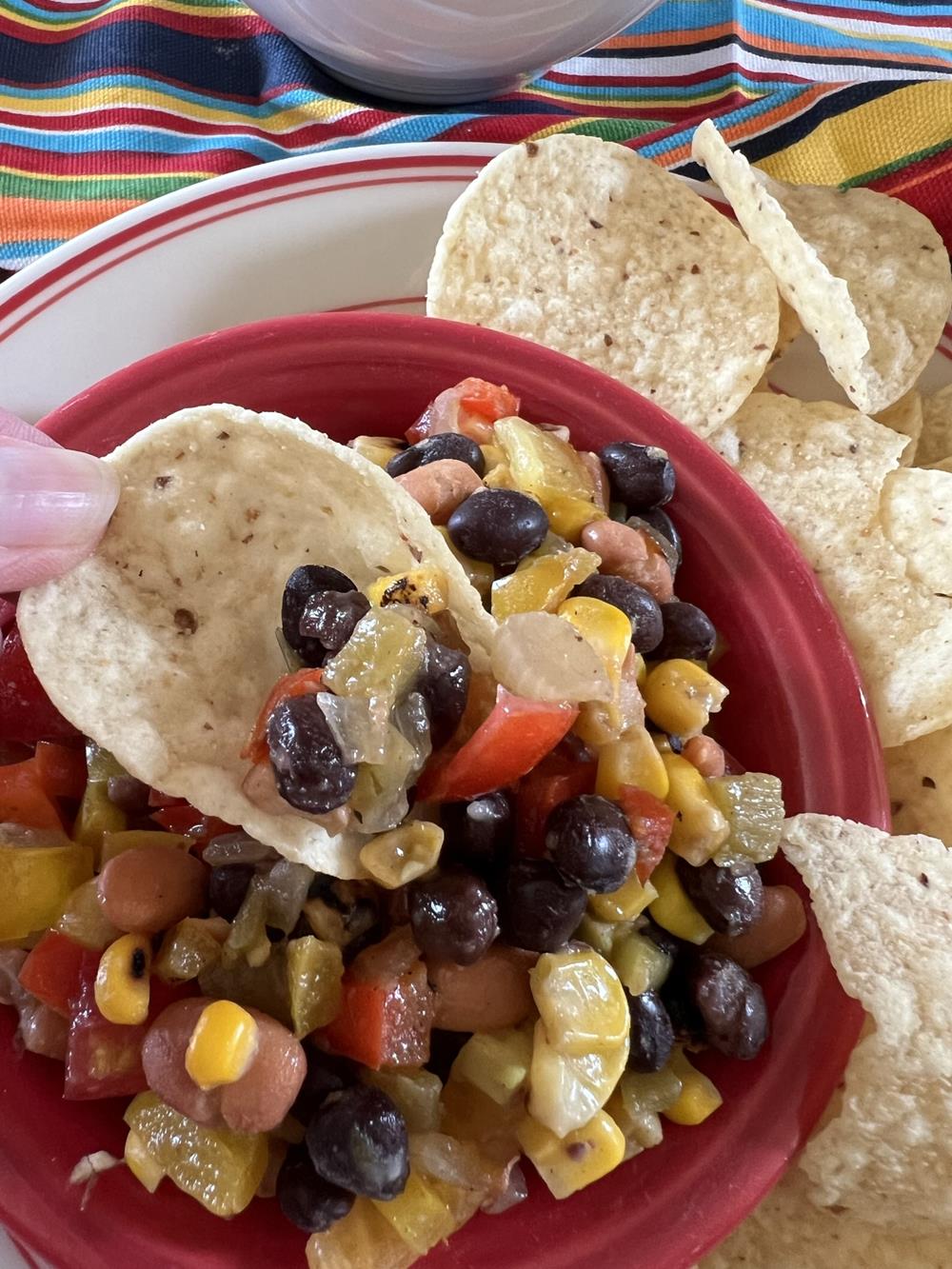 Ingredients
canned black beans
canned pinto beans
tomatoes
green pepper
red or yellow pepper
onion
roasted frozen corn
chopped green chiles
lime juice
salt
oil
Yield: 12
Oklahoma Cowboy Caviar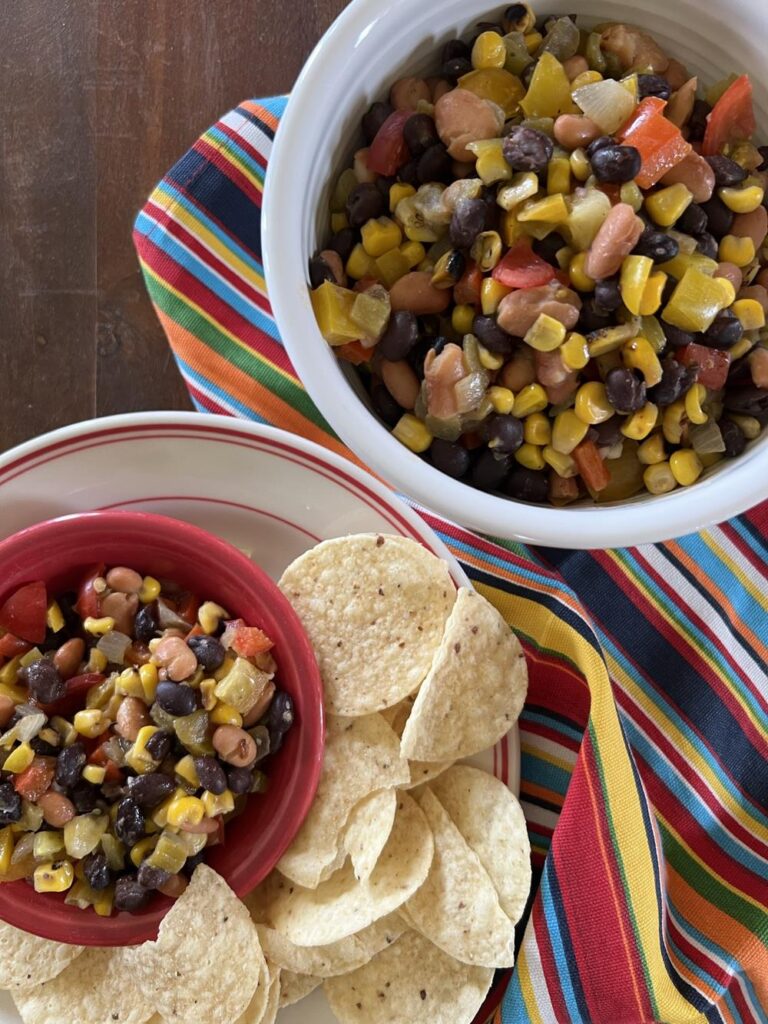 A fun and delicious take on the well known Cowboy Caviar.
Ingredients
1 15 ounce can black beans, rinsed and drained
1 15 ounce can pinto beans, rinsed and drained
1 4 ounce can chopped green chiles
1 green pepper, chopped
1 red or yellow pepper, chopped
1/2 onion, diced
1 1/2 cups roasted corn, frozen works
1/2 cup chopped tomatoes
2 tablespoons chopped cilantro
1 teaspoon salt
2 tablespoons lime juice
1 tablespoon oil
Instructions
Heat oil in skillet.
Add onion, green and yellow peppers.
Cook for 3-4 minutes or until vegetables are slightly tender.
Add corn, beans, and green chilies.
Stir and remove from heat.
Stir in the remaining ingredients.
Serve with chips or as desired.
Notes
For gluten free version be sure to read the labels to make sure the ingredients are gluten free.
Nutrition Information:
Yield:
12
Serving Size:
1
Amount Per Serving:
Calories:

108
Total Fat:

3g
Saturated Fat:

1g
Trans Fat:

0g
Unsaturated Fat:

2g
Cholesterol:

2mg
Sodium:

417mg
Carbohydrates:

18g
Fiber:

5g
Sugar:

3g
Protein:

5g
Nutritional values are approximate and aren't always accurate.