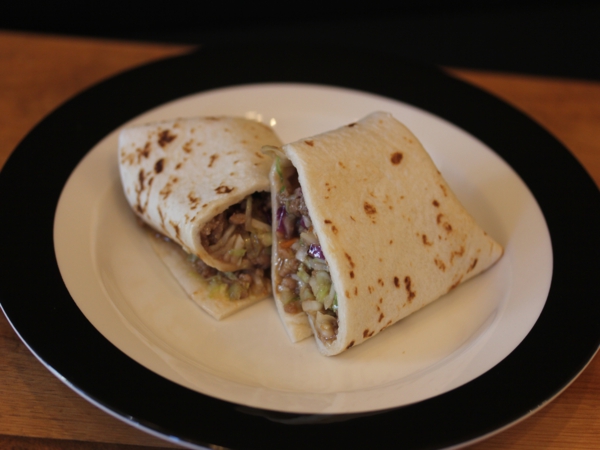 Today's recipe for my Cooking Through My Collection series is for oriental pork wraps. This recipe is perfect for the warmer months that are ahead. It is a quick and easy stove top meal that is also pretty light and healthy.
These pork wraps come from the cookbook Pillsbury Fast and Healthy. I have had this cookbook for years. I used to use it all the time, but have not cooked out of it for a few years. I recently pulled it off the shelf to look through and decided that I need to start cooking from it again. It is a great cookbook full of healthier type meals.
My family loved these pork wraps, but I will say that I did a terrible job following the recipe on these. I think maybe inspired by the original recipe might be more accurate. I did change the recipe, but not enough to really make it my own recipe.
The original recipe called for butterflied pork loin chops. I am sure those would work and be delicious, but I have quite a bit of ground pork in the freezer and decided to use that instead. It worked great. If you don't have ground pork, I think ground turkey or chicken would work fine as well.
I also increased the sauce on the recipe. It just seemed like the recipe was not enough sauce for the amount of meat and vegetables in it, so I increased it. And again it turned out great.
I love simple and delicious meals like this. I think this one will be on the menu plan a lot this summer.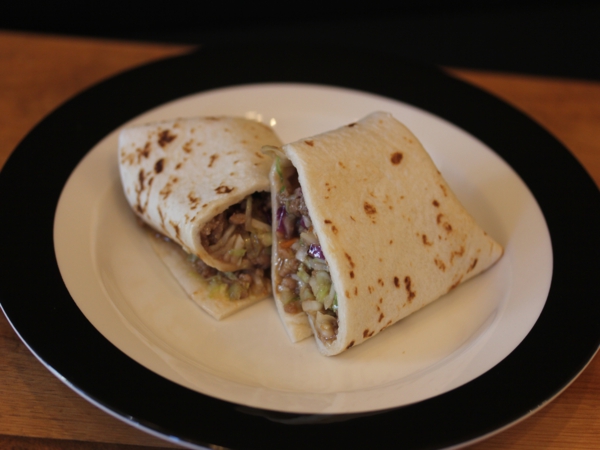 Oriental Pork Wraps
2/3 cup  plum jam
2 tablespoons cornstarch
1 teaspoon ground ginger
1 teaspoon dry mustard
1/2 teaspoon garlic powder
1/4 cup soy sauce
4 teaspoons red wine vinegar
1 pound ground pork
16 ounce package cole slaw mix
tortillas
In a bowl combine jam, cornstarch, ginger, dry mustard, garlic powder, soy sauce, and vinegar. Mix together well and set aside.
In a pan cook ground pork until browned and done.
Add in sauce and cook over medium low heat for 2-3 minutes or until sauce starts to thicken slightly.
Add coleslaw mix and cook for several minutes or until coleslaw is slightly tender.
Spoon mixture into each tortilla.
Wrap and enjoy.