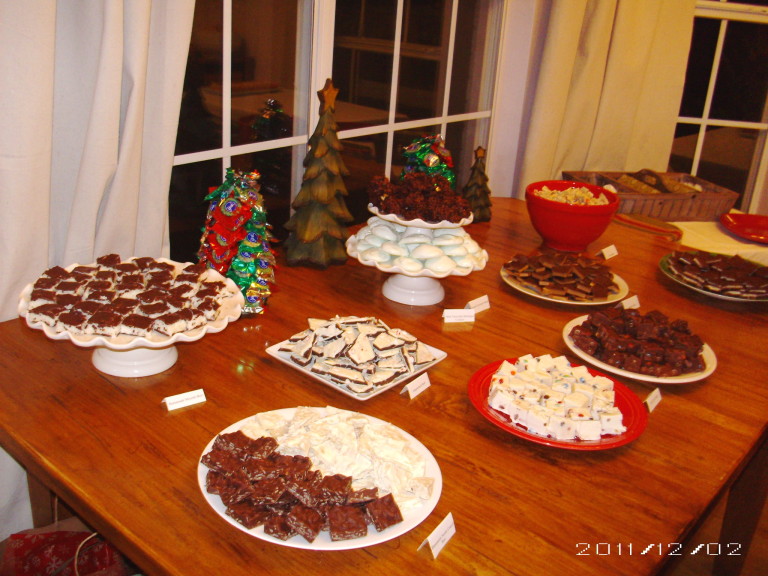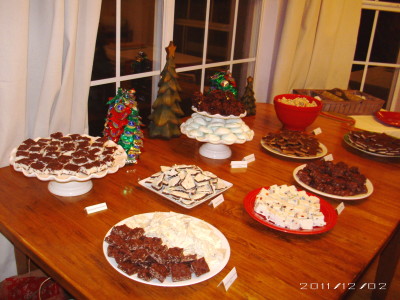 A few weeks ago I mentioned that we were hosting my husband's staff and their families for our annual Christmas party. This is something that we do every year and I had planned on sharing a whole post about the party like I usually do. I love to share what I made and what everyone liked, but instead this is going to be a keeping it real type post.
Our office party went great. We had lots of great food and everyone seemed to have a great time. But here is where I admit that I took no pictures of the office party or the food I served. This means I have no pictures of the wonderful bacon cheese dip recipe that I had planned to share. The only picture I have is the one at the top of this post that my fourteen year old daughter took right before the party, at least one of us was thinking about pictures that night.
You see the night of our office Christmas party real life took priority. Blogging and my website were the last thing on my mind. Yes, I am a food blogger and yes I was mad at myself for not taking pictures, but on December 2nd, real life took over.
You see I had a crazy busy day on the day of our party. We usually plan the date of our office party six to eight weeks in advance and it is almost always the first Friday of December. We know this is a little early for a Christmas party, but it usually works out well for us and for all our staff. This year however it ended up being a bit of a crazy time.
The day before the office party my sister and her family came to visit. They had been visiting her husband's family in Texas for Thanksgiving and wanted to come see us for a few days before they headed back to Washington state where they live. I don't get to see my family often, so I was glad they could come. I warned her ahead of time that it was the weekend of our office party and that I might put her to work helping me. She was fine with that and decided to come.
The craziness of the day though was not my sister visiting, it started when my daughter ended up needing hand surgery and it was scheduled on the same day as the office party. My daughter broke her finger last spring and has had to have two minor surgeries since then. We knew she needed another surgery, we just had no idea it would fall on the same day as our office party.
The office party had been planned well in advance and I did not feel like I should change it. My daughter was in pain and was ready to get her surgery done, so I did not think I should pass up the surgery date of December 2nd, since that was the earliest that they had an opening.
So, we went with it figuring we would just make it work. And we did make it work.
My sister was here and she helped me prepare some of the food and helped with the set up and clean up. My fourteen year old helped me make most of the desserts ahead of time. And for the first time since we have had our office parties, I bought some premade meat and cheese trays from a local meat shop/restaurant.
My daughter's surgery ended up being early in the day, so it actually worked out quite well, except for the fact that my mind was not fully on food, taking pictures, and sharing recipes. It was more on my daughter, giving her pain medicine at the right time, and focusing on hosting a party. Thus, the reason I totally forgot to take pictures, and did not even realize it until several hours after the party.
So, for those of you wanting a post full of party pictures and new holiday food recipes, I am sorry, I don't have any for you.
I almost did not share about the party at all since I really do not have much to share, but I decided to turn it into a keeping it real type post.
You see behind every blogger is a real life. We are real people. We have busy, and sometimes crazy, schedules just like everyone else.
Behind all those beautiful pictures of perfectly decorated homes and delicious looking food is often chaos, sometimes a lot of chaos. And all too often real life and family collide with blog life and real life and family has to win out.
Sometimes perfectly plated food and picturing taking has to take a back seat and that is exactly what happened to me the day of our office party. Real life took priority and I hope you all understand.
I will try to make the delicious bacon and cheese dip again soon so that I can share the recipe, because really it was so good. And I need an excuse to make it again anyway, because really it was that good.
Thanks for letting me keep it real!