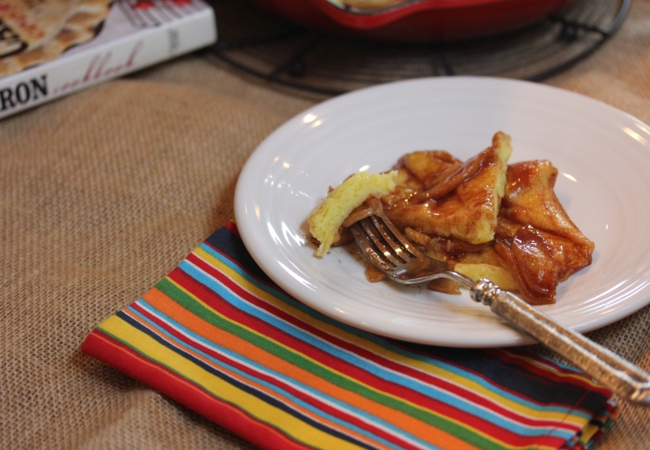 It has been a few weeks since I shared a recipe for my Cooking Through My Collection Series, but today I am back to sharing my cookbook collection with an oven apple pancake. Also known as an apple dutch baby pancake.
I have fond memories of dutch baby type pancakes. My mom made them almost every year for Christmas and other holiday breakfasts. Today's recipe is a little different than my mom's recipe because it contains apples, but it is the same basic idea. The apples added to this are delicious and perfect for fall.
This recipe comes from the cookbook Lodge Cast Iron Cookbook. Before we talk about the cookbook though I must talk about my love for cast iron. My mom and sister bought me my first cast iron pan and I have used it so many times since then. I have also added quite a few pieces to my collection since then. Because you can never have too many cast iron pans can you?
Growing up my mom used her cast iron pans all the time. She has had them for years and they are well seasoned. In fact, they are so well seasoned they are almost like a non stick pan. My guess is that she has been using them for at least 40 years. I think some of them even came from my grandmother, so they are older than that.
Cast iron pans are pans that will last for years. If not generations. They are an investment worth making. Once they are seasoned you will find yourself using them over and over again.
Since I love cast iron pans so much, it is probably no surprise that I love the cookbooks that Lodge puts out. You don't need a special cookbook for your cast iron pans, but since Lodge is pretty much the authority on cast iron cooking, I love seeing what they recommend for cooking in them. And this Lodge cookbook is full of great recipes for using your cast iron.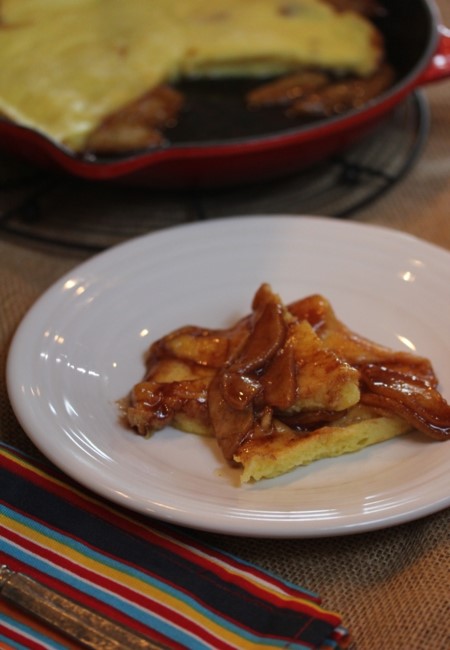 Now for the recipe. Oven pancakes aka Dutch Babies are hard to get a good picture of. If you have ever cooked them, you know they puff up beautifully when they are in the oven, but almost as soon as you take them out of the oven, they deflate and look like a flat pancake. Kind of like a souffle. They are beautiful for about 1 minute and that is it.
However, they are delicious! And they are easy to make. This apple oven pancake is great for fall. It combines apples and cinnamon with a dutch baby and it gives you a wonderful breakfast treat. It may not be pretty, but it is delicious!
Yield: 6 servings
Oven Apple Pancake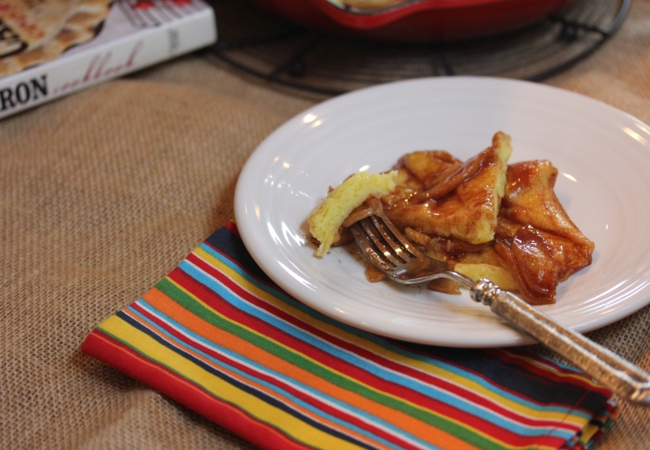 Make breakfast special with this oven apple pancake.
Ingredients
1/4 cup butter
1 apple, peeled and thinly sliced
2 tablespoons sugar
1/2 teaspoon cinnamon
1/4 cup milk
1 egg
1/4 cup flour ( or use a gluten-free flour blend for gf version )
pinch of salt
Instructions
Preheat oven to 425 degrees.
Melt butter in cast iron skillet over low heat.
Once the butter is melted remove half of the butter to use in batter.
Add cinnamon, sugar, and sliced apples to the remaining butter in the pan.
Cook over medium low heat for several minutes until the apples are slightly softened.
While the apples are cooking whisk together the remaining butter, egg, milk, flour, and salt until smooth.
Pour batter over the hot apples.
Bake for about 10-12 minutes or until the pancake puffs up and is golden brown.
Serve straight from the skillet or invert onto a serving plate.
Notes
If using a gluten-free flour blend you may need to use a little extra liquid depending on the brand of the blend.
Nutrition Information:
Yield:
6
Serving Size:
1
Amount Per Serving:
Calories:

136
Total Fat:

9g
Saturated Fat:

5g
Trans Fat:

0g
Unsaturated Fat:

3g
Cholesterol:

52mg
Sodium:

100mg
Carbohydrates:

13g
Fiber:

1g
Sugar:

7g
Protein:

2g
Nutritional values are approxomite and aren't always accurate.