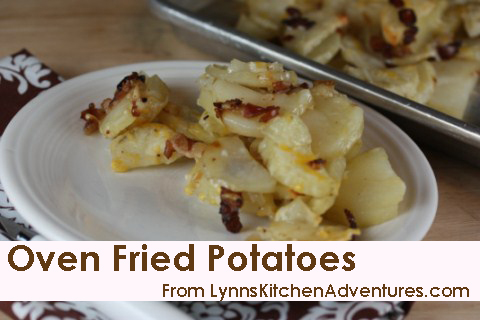 Fried potatoes are the perfect comfort food. Or at least I think they are.
I mean really, who does not love bacon and potatoes cooked together until browned and delicious.
Today's recipe is an easy and delicious take on your basic fried potatoes. These are so easy to make because you bake them in the oven.
And the trick on getting these to turn out like real fried potatoes is the bacon grease. Don't skimp on the the bacon grease or you will end up with oven potatoes instead of oven fried potatoes. Really these are so worth it for that extra special treat!
Serve these with an egg on the side and you have comfort food at its best. And not only is it comfort food, but this is an inexpensive meal or side dish to serve.
Oven Fried Potatoes
1/2 pound bacon, diced
1 onion, chopped
3 pounds potatoes, peeled and cut into 1/2 inch of so chunks or sliced
Shredded Cheese- optional but really good.
In a skillet cook bacon and onion until bacon is crisp and onion is tender.
Mix bacon and onion mixture with potatoes and stir well. You want several tablespoons to 1/4 of a cup of bacon grease mixed in with this. That will give you the fried taste and texture.
Place in a large casserole dish or sheet pan. You do not want to crowd the pan or the potatoes will not brown.
Cook potatoes at 375 for 45-50 minutes or until potatoes are done.
Sprinkle with cheese, if using, and cook 2-4 more minutes or until cheese is melted.
Serve and enjoy!