I have posted many times how I struggle with making breakfast for my family. I am not a morning person. Not only am I not a morning person, I am not a breakfast person. I have no desire for food first thing in the morning.
The problem is that even though I don't like to eat in the morning, the rest of my family does. Because of this, my favorite breakfasts are the ones that I can make ahead of time. It is so much easier to do all the work the day before. This makes my mornings so much easier.
Last month I read a recipe at Finding Joy In My Kitchen for Christmas Eggs. It immediately caught my attention. First of all, it look delicious. Secondly, it was a make ahead recipe. I love make ahead recipes, so I knew I wanted to try this basic idea. I had never thought to make my eggs ahead like this.
The original recipe looks very good, but I tweaked it a little and gave it a Mexican flavor, to make it more like my family would like it.
I make a huge batch of this, so we can eat it for several breakfasts. This usually lasts us for 3 meals. My kids don't mind eating the same thing for several days. You may want to 1/2 the recipe, if you have a smaller family, or if you only want to eat it for just one meal.

Overnight Mexican Eggs
1 lb of sausage
18 eggs
1/3 cup of sour cream
1 cup of salsa
1  1/2 cup shredded cheddar, colby jack cheese, or monterey jack cheese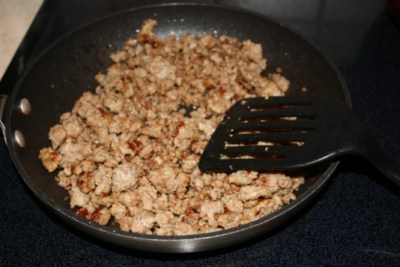 Cook sausage until done, drain, and set aside.
In a bowl crack eggs and whisk together well. Cook and scramble eggs until done. Let cool.
Once the meat and eggs are cool, combine meat, scrambled eggs, sour cream, salsa, and cheese into a large bowl (reserve a little cheese for topping).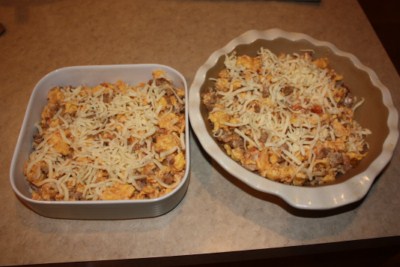 Place into several pans and sprinkle with remaining cheese. Cover and refrigerate overnight or until you are ready to bake them. I bake each pan as I need it.
To bake, uncover and bake at 350 for 15-20 minutes or until heated through and cheese is melted.
Make ahead breakfasts
work for me
.
This post linked to Food On Fridays.