My sister and I both love Panera Bread's soups. I love their broccoli cheddar and I have come up with my own version of it.
My sister does not like broccoli though, so she does not enjoy the broccoli soup. She does however love Panera's potato soup. I also really like that one and always have trouble deciding between the two soups when I eat at Panera. What I like about the potato soup there is that it is so creamy. Most potato soups are cheesy, but not this one. It is just a perfectly creamy potato soup.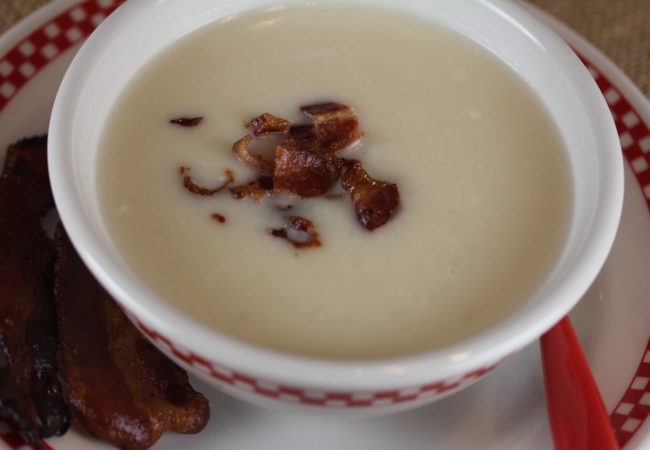 My sister told me that she had found a recipe online for a copycat version of this soup. She thought that it was very good and close to the real thing. I decided to give it a try. I agreed that it was pretty close, but I thought it needed some tweaking. I finally have it the way we think it is best.
I hope you enjoy it too. It is so easy, pretty economical, and a great meal for a cold day.
And I will say the bacon is not like the original, but my family loves a little cooked bacon sprinkled on top. Bacon makes everything better! But free free to leave it out if you don't have any or don't like it.
Homemade Panera Baked Potato Soup
6 cups chicken broth
6 cups potatoes, peeled and cubed
1/2 teaspoon seasoning salt
1/4 teaspoon white pepper
1/4 teaspoon ground red pepper
1 (8 ounce) package cream cheese, cut into chunks, room temperature
4 slices bacon, cooked and crumbled (optional, but makes it really good)
Combine broth, potatoes and spices. Boil on medium heat until potatoes are tender. Smash a few of the potatoes to release their starch for thickening. If you like it smooth smash more, if you like it chunky just smash a little of it. You can decide the texture of it. Reduce to low heat. Add cream cheese. Heat, stirring frequently, until cheese melts. Ladle into bowls. Sprinkle a little bacon over each bowl of soup.