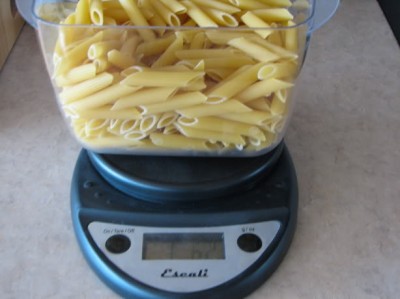 For my birthday last year, my sister gave me a kitchen scale. I knew it would be useful for some of my bread and other recipes, but I did not know how useful it would be for other things.
I buy a lot of my food items in bulk, especially things like pasta. A lot of recipes call for 1 pound of pasta. Well, when you buy in bulk it is hard to tell what one pound of pasta is. One pound of macaroni noodles noodles is a different cup measurement than one pound of penne pasta, which is different from one pound of egg noodles.
This is where my kitchen scale comes in handy.
Now I can easily figure out what one pound of pasta is. So, thanks Flo I love my kitchen scale.
Here are some of the measurements that I figured out:
1 pound penne pasta = 4 1/2 cups
1 pound macaroni noodles = 3 cups
1 pound egg noodles = 8 cups
1 pound fusilli pasta = 6 cups