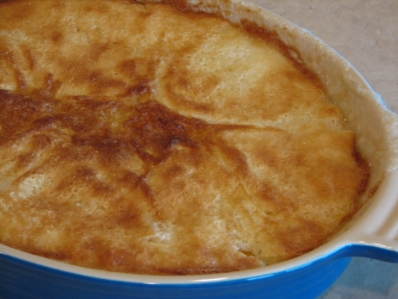 Peach Cobbler
1/2 cup butter
1 cup sugar
3/4 cup self-rising flour
3/4 cup milk
28 ounce can sliced peaches in heavy syrup
cinnamon
Preheat oven to 350 degrees F.
Put butter in a 13 x 9 x 2-inch baking dish and place in the oven to melt. Stir sugar and flour together and mix well. Slowly add milk and continue stirring to prevent the batter from lumping.
Remove hot baking dish containing melted butter from oven. Pour the batter directly over butter in baking dish, but  not stir.
Spoon fruit on top of batter, then carefully pour the syrup on top. Do not stir. Sprinkle cinnamon on top of batter, if using cinnamon. (The most important part of this dish is not stirring the mixture at this point in the recipe.)
Bake for 30 to 45 minutes or until golden brown. Your batter will rise above your fruit, producing a really nice crust. Serve this warm with ice cream or whipped cream.
Adapted from Paula Deen