If you love baked oatmeal this Pecan Praline Baked Oatmeal is a must try! If you have never tried baked oatmeal you need to. It is our favorite way to eat oatmeal!

I have mentioned before that I love making a special breakfast for Christmas and other holidays. I have also mentioned many times that I love quick and easy. Which is why I knew I had to share one last quick and easy holiday recipe with you.
I made this baked oatmeal last time I was visiting my parents in Oregon. My oldest daughter, who has a nut allergy, was not with us. When she is not with us we enjoy eating nuts. Since we were at my parents we took advantage of being able to eat and cook with them.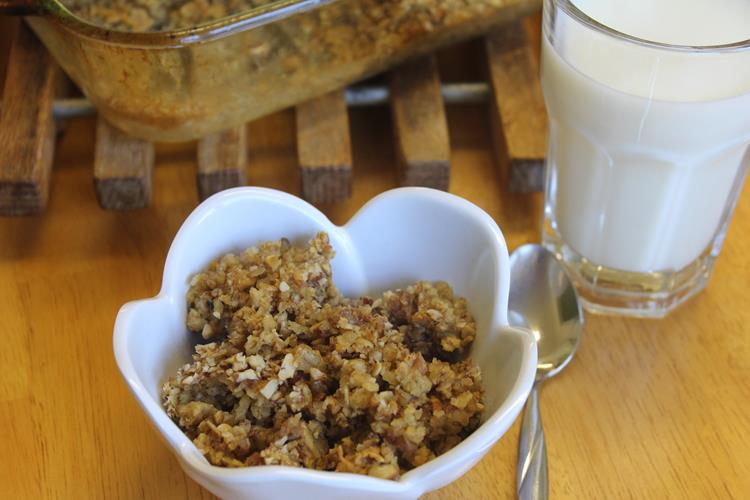 I have known for a long time that I wanted to make a brown sugar pecan version of my baked oatmeal, but since my daughter has a nut allergy, I could not make it at home. Visiting my parents gave me the perfect chance to come up with a pecan version.
I took my basic baked oatmeal and added pecans. I also made a simple brown sugar pecan topping for it.
And it was just as good as I imagined it would be! It was so good. It is a little sweeter than some of my other baked oatmeal recipes, so I think it makes the perfect holiday breakfast. But really this works anytime of year.
If you love my other baked oatmeal recipes this is a must try!
Looking for more baked oatmeal recipes? Be sure to check out my other baked oatmeal recipes.
Tools the make this recipe easier:
Pecan Praline Baked Oatmeal
3 cups quick cooking oats- I use gluten free quick oats
1/2 cup brown sugar
1 1/2 cups milk
2 tablespoons butter, softened
2 eggs
2 teaspoons baking powder
1 teaspoon salt
2 teaspoons vanilla
1/2 cup chopped pecans
Topping:
1/2 cup brown sugar
1/2 cup chopped pecans
Preheat oven to 350.
In a large bowl mix together quick oats, 1/2 cup brown sugar, milk, butter, egg, baking powder, salt, vanilla, and 1/2 cup pecans.
Spread into a 9×13 pan.
For the topping mix together the remaining brown sugar and chopped pecans. Sprinkle over the oatmeal mixture.
Bake for 18-20 minutes or until set.
Serve warm. Pour milk over top when serving if desired.