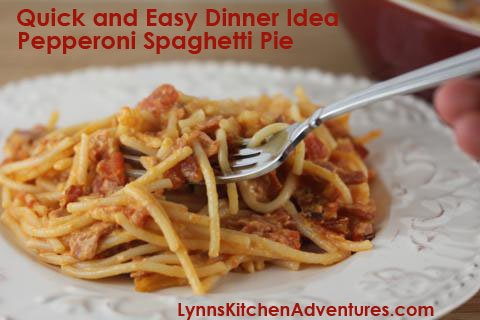 Pepperoni Spaghetti Pie is one of those simple meals that everyone will love. Really what could be bad about pasta, cheese, and pepperoni?!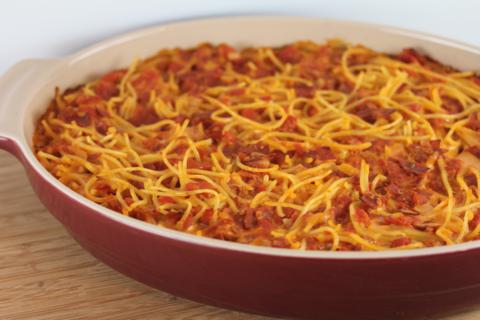 This is creamy, delicious, and full of flavor. My kids loved it. It was the flavors of pizza, but in a casserole type dish.
Add some salad or vegetables on the side and you have an easy dinner on the table in no time.
Pepperoni Spaghetti Pie
12 ounce spaghetti noodles
6 ounces pepperoni, diced
1 onion finely chopped
1/4 teaspoon ground red pepper
3- 14 ounce cans diced tomatoes
2 cups cheddar cheese
3/4 cup heavy cream
Preheat oven to 425 degrees.
Cook spaghetti noodles according to direction.
In a skillet cook pepperoni and onion until onion is tender and pepperoni is slightly crisp. If you use a low fat pepperoni  you may need to add a little oil.
Add ground red pepper and tomatoes and cook on low for about 15 minutes or until sauce has thickened slightly.
Combine cooked noodles, tomatoes mixture, and cream. Stir to mix well.
Stir in cheese and spread in a 9×13 or similar size pan.
Bake for 15-18 minutes or until heated through.
Let sit for 5 minutes before serving.