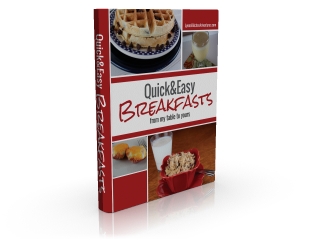 One of my goals for the year is to have all my ebooks available in Kindle version. I know many of you prefer the Kindle versions over a PDF, so I am working on having them all available in both forms.
I am also working on a few new ebooks that I am excited about and hope to have available soon.
Today though I wanted to let you know that my Quick and Easy Breakfasts from My Table To Yours
is now available in Kindle version, for only $1.99. For less than the cost of a box of cereal, you can have an ebook full of my favorite breakfast recipes, that is a pretty good deal.
It is also available in PDF form.
If you are looking for some breakfast ideas, this ebook is full of our favorites.
We've all heard the most important meal of the day is breakfast. Here are a few FACTS about breakfast to consider:

A healthy breakfast provides children with the energy and nutrients they need to be able to concentrate in the classroom.
Studies show eating breakfast is important in maintaining a healthy body weight.
Without breakfast, hunger sets in long before lunchtime which can lead to unhealthy snacking along with low energy.
Skipping breakfast can mean missing out on the daily requirement of some essential minerals and vitamins.

Let's also consider a 5th FACT…

Breakfast does not have to be enjoyed only in the morning. You can eat breakfast anytime!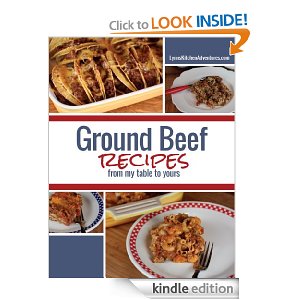 My ebook, Ground Beef Recipes from My Table To Yours
, is also now available in Kindle version for only 99 cents. For less than the cost of a pound of ground beef, you can have some great recipes and ideas.
With today's super high prices, ground beef is the way to go if you're on a tight budget like most of us.

Ground beef is the most versatile and inexpensive when it comes to making a meal for your family or for yourself.

Cooking ground beef recipes can also be monotonous but they don't have to be with a few more ideas at your disposal.
For now Ground Beef Recipes from My Table To Yours
is only available in Kindle format, but if you do not have a Kindle, there are some reading apps
available that allows you to read the Kindle version on other computers and devices.
And for my gluten free readers these are older ebooks that I have redone and added to, so not all the recipes are gluten free. Most are, but some are not. The breakfast ebook contains some recipes that contain flour. The ground beef ebook though is gluten free if you use gluten free pasta, sauces, read labels etc., but it is not a gf specific ebook.