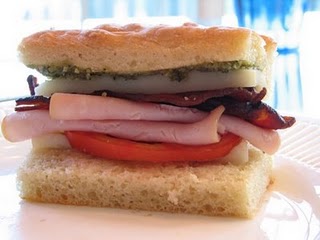 My basil plant is doing very well this year. I planted it in the ground instead of in a pot. I am glad I did because it has done great. I am picking a lof of basil and I am using it to make pesto.
I have tried a few new ways to use pesto. I tried pesto rice. Let's just say it was not a hit with my family. My husband ate it for dinner and then told me that I should toss the rest of it out. I know it is bad if he does not eat it because he likes almost anything. So, I will not be making pesto rice again.
I did try it spread on a sandwich and we all loved it. I had some left over foccocia and I used that for the bread. I spread one piece of bread with pesto then layered mozzarella cheese, bacon, turkey lunch meat, sliced tomato, and another piece of mozzarella cheese. I heated it on my grill just until it was warm and the cheese was softened. This made it panini style. This was so good. It was also a quick and easy dinner. I already had the pesto made and it went together and cooked in no time. I served it with a salad and it make a great dinner. I will be making sandwiches pesto again.
Do you grow your own basil? How do you use it?