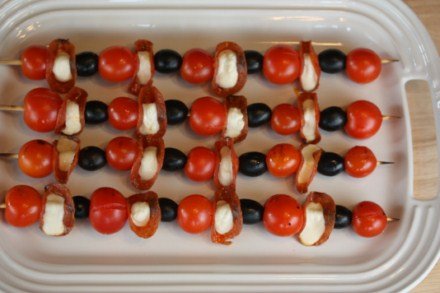 Pizza kebabs are such a fun dinner to serve, especially since they are a way to serve "pizza" without much work or heating up the kitchen.
My family loves these. And they are a fun way to serve cherry tomatoes, especially if you have extra coming from your garden. I love how quick and easy they are to make.
We love fresh mozzarella and I love the way it melts when grilled, but you could probably use regular mozzarella for these.
See that cheese that has just started to melt. YUM!! Really these are so good!
Pizza Kebabs
skewers
cherry tomatoes
pepperoni slices
fresh mozzarella, cut into small chunks
olive, left whole
Soak skewers in water for several hours if they are wooden.
Take wet skewers and place one tomato and one olive on the skewers.
Wrap a piece of pepperoni around a chunk of mozzarella cheese and place on the skewers. (The pepperoni keeps the melting cheese from going everywhere, so don't skip that step.)
Continue until skewers if filled or you have the desired amount on each skewer.
Place on grill over medium heat until the cheese is starting to melt and the tomatoes are warmed.
Serve and enjoy!