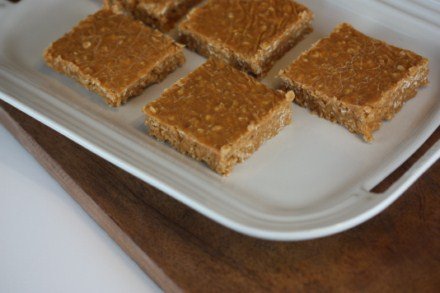 It is has been hot here in Oklahoma, but it is August after all and August in Oklahoma means hot weather.
One thing I dread about hot weather is not being able to bake. I mean I can bake, but really when it is 100+ degrees outside the last thing you want to do is heat up your kitchen unnecessarily.
So, in our house we set aside the cookies, cakes, and other baked treats for treats that are quick and easy to make without heating up the house.
One of our favorite treats to make is no bake cookie bars. No bake cookie bars are quick and easy to make and contain everyday ingredients, so they are perfect for a quick summertime dessert.
Today I am sharing a butterscotch version of a no bake cookie bars. We love the regular chocolate no bake cookie bars, but these are a fun way to change them up for something a little different.
What is your favorite summertime treat to make that does not heat up the kitchen? 
No Bake Butterscotch Cookie Bars
1 1/2 cups sugar
1/2 cup butter
1- 5 ounce can evaporated milk
1 1/2 cups butterscotch chips (If you are gluten free be sure to read labels to be sure they are gluten free.)
1- 4 serving size instant butterscotch pudding ( you use the mix dry you do not mix up the pudding)
1 teaspoon vanilla
2 1/2 cups quick cooking oats ( I use gluten free quick oats)
In a large pan combine sugar, butter, and evaporated milk. Cook and stir until mixture comes to a full boil.
Remove the pan from the heat and stir in butterscotch chips and pudding mix and stir until the chips have melted.
Stir in the vanilla and oats until well combined.
Spread onto a jelly roll type pan or a cookie sheet with sides. I use an 11×14 pan.
Refrigerate until cookies are set up and cut into bars.
Enjoy!